I've been doing a lot of planning as part of my Paperless Office Experiment. The comments on my first post have been very helpful in guiding me in the right direction. If you have any suggestions or experiences, please share them.
The biggest portion of my planning has been in trying to identify the components necessary to make a paperless office workable. Simply adding a scanner won't make you paperless. You have to have a system that works together as a whole not just a few random pieces of technology.
Here are the components I've identified as being necessary so far. I'd be interested in any input on things I may have overlooked.
Scanner
Most people start with a scanner when they think of a paperless office. While it is important, it is more important to identify how the documents are going to be handled once they are on the computer and then work backwards to determine the best scanner that is compatible with the software you plan to use.
Here are some of the things to look for in a scanner:
Automatic Sheet Feeding – If you are using a flatbed scanner it is going to be very tedious to handle multi page documents. Flat bed scanners are typically higher quality than sheet fed scanners, but they are much slower to use because you have to manually switch out pieces of paper. There are some flatbed scanners with additional equipment that give you a sheet feeder using the flatbed quality.
Duplex – You want to be able to read both sides of a document. Otherwise it is going to be difficult to piece your information back together once it is on the computer. Ideally you want a scanner that can read both sides of the paper at the same time.
Speed – If your are using a sheet fed scanner speed might not be quite as important. If you can just load 25 pages into it and then walk away it might not matter too much how long it takes. However, there are always going to be instances where you are trying to scan something that you need to use. In those cases, it is important to have a scanner that isn't too slow. The faster your scanner the more likely you are to use it. Just having the technical capabilities to go paperless doesn't give you a paperless office.  You have to create a system that you will actually use.
At this point I'm leaning toward a Fujitsu S500M SnapScan. It is less than $500 and seems to have most of the features I'll need. And it came highly recommended in the comments on the original post.
Shredder
Once you scan a document you need an easy way to destroy it. There are a very wide variety of shredders on the market. For a paperless office you need something that can handle a reasonable volume and is fairly secure. Older shredders simply cut the paper into strips. These can be easily pieced back together. At the minimum you want a "confetti" shredder that produces pieces 1 inch by 1/4 inch. The ultra secure shredders reduce paper to a powder, but these usually run a few thousand dollars.
One of the things I look for in a shredder is the ability to shred unopened mail. I want to be able to stick the entire unopened envelope from a credit card application in it without needing to open it and handle each individual piece of paper. The ability to shred CDs and credit cards is also handy.
I already have a shredder. It is the Aurora AS1015CD that I got at Walmart. The closest thing I can find online is the Medium-Duty AS1018CD Confetti-Cut Paper Shredder. So far the only thing that caused it even a slight problem was bubble wrap.
(Yes I know you shouldn't feed bubble wrap into a shredder, but since it hasn't ever jammed, I've been growing curious as to just how much I can feed it before it has a problem. The bubble wrap didn't really jam anything, it just got wrapped around the cutters and took a couple pieces of normal paper before it cleared itself off.)
Secure Hard Drive Storage
Going paperless means that all of your information is going to be in one centralized place. While this is convenient, it is an identity thief's dream target. If your computer were lost or stolen you want to make sure that they would not have easy access to all of your bank accounts, retirement info, etc.
So ideally you want your paperless office setup to encrypt your digital documents when you store them on your hard drive. These need to be saved in a way that even if someone steals your computer and gains access to the operating system, they could not access the files.
OS X has a feature called FileVault that does this. Your files are encrypted and a special password is assigned to them. After a period of not being used, it will prompt you to enter the password again before giving you access to the files.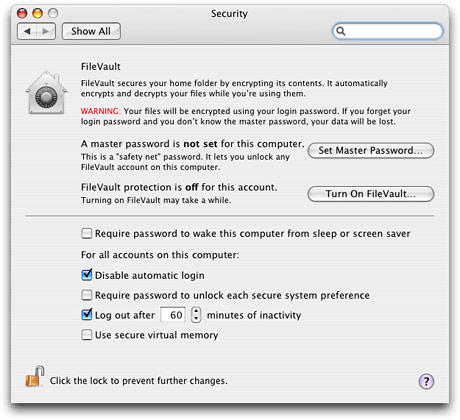 Other operating systems have similar mechanisms and there are third party applications that give the same type of security. It is important to realize that this type of setup will prevent you from retrieving your files without the password. If you die, your spouse will not have access to any of your records unless you have shared your password. I would suggest keeping the password in a safe place like a lock box along with a physical piece of paper along with other important numbers just to be on the safe side.
Document Management System
This is really the cornerstone of your paperless office. When you scan in a document you need some way to track it. It is possible to just use the file system as your document management system. OS X and Vista both provide a way to add metadata to files and this can be an effective way to track things. Spotlight and Vista's search feature may be all that you need. Another alternative is to use Google's desktop search to locate data.
While I like Spotlight, it has always seemed a little slow to me. Maybe when I upgrade to an Intel based processor I'll be pleasantly surprised, but I'm planning on using an actual document management system for my needs.
One of the most important parts is having a mechanism to index the content of scanned documents. On many systems, scanning in a PDF results in a beautiful image of the page without any actual text data. That means unless you have tagged the file in some other way, you will never be able to locate it based on a search.
What you want is to have an invisible layer of text that is created through optical character recognition that is generated and kept as part of the PDF. I was pleasantly surprised when I discovered my CanoScan LiDE 70 and the included software does this automatically. However, I've since discovered that most other systems require a manual step to make this happen.
If you have a version of Acrobat Standard (or better) you can scan to Acrobat and let it do OCR. I'm not sure how accurate Adobe's OCR package is, but still this requires you to manually tell Acrobat to perform OCR.
I'm looking for a solution that will allow me to scan directly into my document management system and perform the necessary OCR steps transparently. I want to push a button and put the document directly into the document management system. I suppose if it prompts me for a title or keywords, that would be ok but I don't want to have to go through a 2 or 3 step process on each piece of paper.
DEVONThink Pro Office has been recommended as a good solution, so I'm currently trying to figure out if it can handle this type of workflow. If you go the filesystem rout, checkout our article on Simple Paperless Filing Systems.
Secure Backup System
With so much vital information being stored directly on my computer, I think I'm going to need to revamp my backup plan. I will probably keep DVDs or a hard drive in a lock box, but I'm considering the possibility of keeping an encrypted copy online, possibly using Amazon's S3 service. .Mac has recently upgraded their storage limit, so it might be possible to keep an encrypted version of my documents synched with the .mac servers as another alternative.
High Resolution Monitor
Originally I used a 17 inch Powerbook with a 1440 x 900 screen and a 24 inch Dell monitor with a 1920 x 1200 screen. When I upgraded my Powerbook moved to a 1920×1200 built in display and a 30 inch 2560×1600 external monitor. The higher resolution isn't so I can show an entire sheet of paper at only 5 inches tall. It does make it easier to read PDFs when I'm displaying an entire page on the screen and reduce the amount of time I have to spend scrolling around in a document. This is particularly important when dealing with multi column documents.
The large monitor lets you display two pages side by side for easy reading and the 1920×1200 monitor on the laptop gives me high quality when I'm on the traveling.
Portable Paper Replacement Devices
One of the common uses of paper, is to take with you. For example, you might print out a map to take on the road, print out your flight information when going on a trip or print out an article to read on a plane.
I'm not sure if you can really replace paper when it is used in this way, but I have a few devices that I plan to try to use. The first is my Blackberry. The second is my Sony eBook Reader that uses digital ink technology. I think I'll still feel safer having my map or flight information on a piece of paper, but we'll see.
Digital Signature Solution
One of the big reasons I print documents out currently is so I can sign them and then fax them to someone. I'd like to find a good way to handle digital signatures on PDF documents. The simple way is to just scan in my signature, however Acrobat has some capabilities that allow you to sign or encrypt your document with your personal key which allows people to verify that you indeed signed the document. I don't know much about what is possible at this point, but I'm looking for something that will give me a single way of dealing with signed digital document–whether they are being emailed to an insurance agent in the middle of rural Nebraska or a banker who has the most elaborate setup for verifying digital signatures.
If you have any suggestions or comments, please let me know. I'm trying to harness the collective experience of my readers to help me be successful while staying under my $1,000 budget.