This is a guest post by Arjun Muralidharan, author of The Productive Student, a new blog about productivity for college students and all productivity buffs.
Mark's paperless project has always been a favorite of mine to follow. He uses DevonThink to manage incoming documents from his Fujitsu ScanSnap.
It's a good system, but for me, it lacks two things:
It doesn't handle all my files, such as Word documents, Keynote presentations and other file types well.
Third-party software independence.
In accordance with GTD, I like to have a comprehensive system that's cross-platform and can live independently from software such as DevonThink.
While a system with DevonThink will work for many of you, I'm sure some of you out there will value a more flexible, portable system.
Here's my filing system, using just Mac OS X and Quicksilver, and optionally, Leap.
The System
Single Alpha System
I have hanging folders for each letter of the alphabet as my physical storage system. I find this system works extremely well, as far as retrieval is concerned. There's a maximum of 26 places I can look for in the worst case, usually you can narrow it down to 3 or 4.
It takes 10 minutes to make but is extremely easy to navigate as you'll see.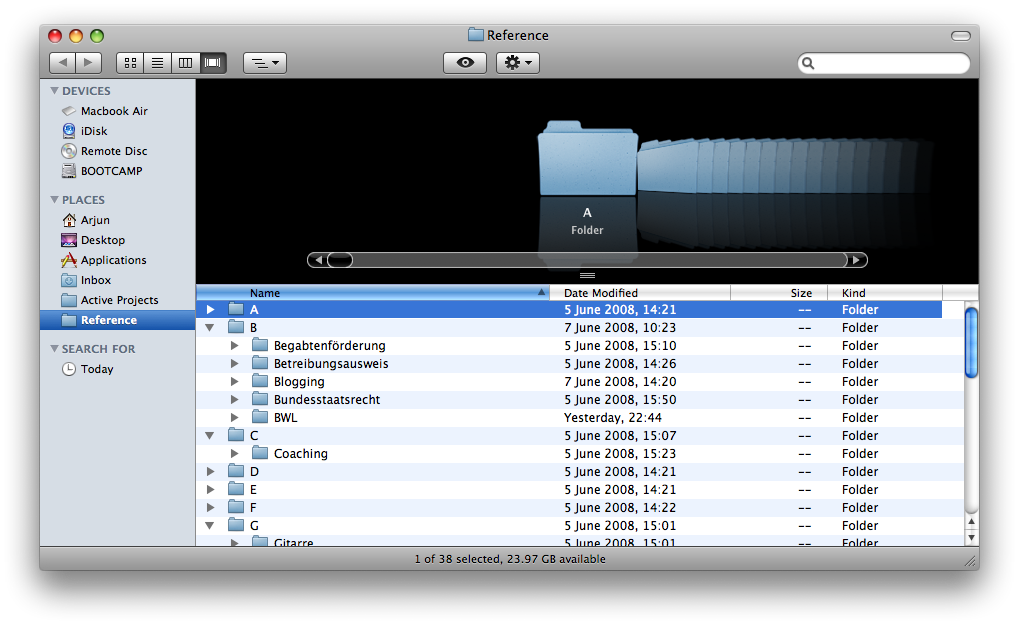 This system resides within a Reference folder. This folder practically holds my entire life.
Filing Stuff
This is where Quicksilver comes into play. Quicksilver can be described as a launcher for Mac OS X, but it basically provides instant access to a lot of functionality and interaction with files. You can get it at Blacktree Software.
Let's take a typical scenario:
You have file that's landed in your inbox, either by downloading it from the internet, an email attachment, or a direct PDF scan from your scanner. Here, I have an eBook version of George Orwell's 1984.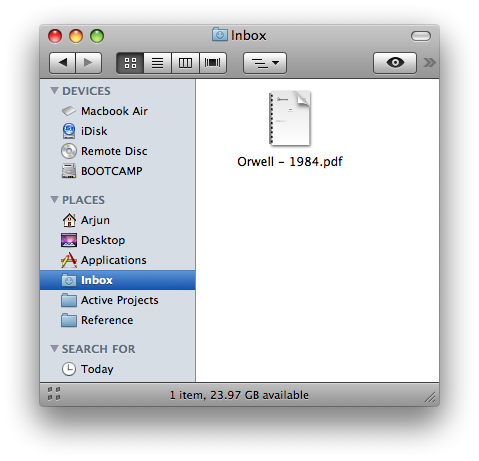 I want to achieve the following: Put the file into my system in a folder named "eBooks".
Two problems arise:
The folder eBooks doesn't exist yet.
Conventionally moving a file is a pain in the backside.
With Quicksilver, it's easy:
Highlight the file with your mouse (click once).
Invoke Quicksilver.
Type "E" to go to your "E" folder.
Press Tab, and type "N" to select the "New Folder" command.
Press Tab again, and type "eBooks", and Enter to create the folder.
Now type Command+G to drop your highlighted file into Quicksilver.
Press Tab, and type "M" to choose the "Move to…" command.
Press Tab and type "E" to go to the E-Folder.
Use the arrow keys to drill down to the "eBooks" folder, and hit Enter.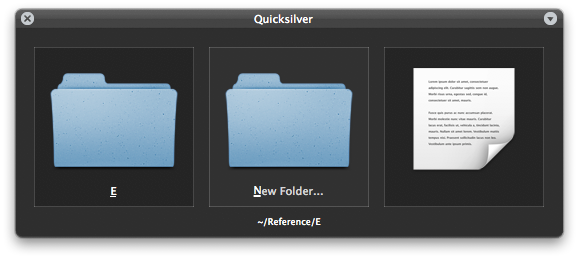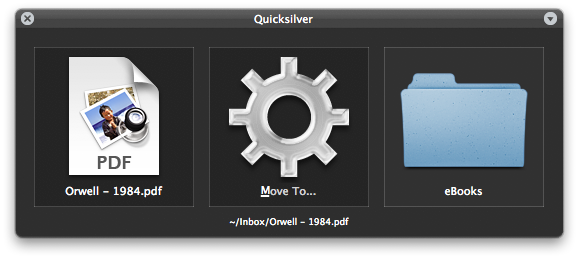 While the instructions seem lengthy, once you get used to it you'll find it extremely fast and comfortable to do. The last two steps are necessary because Quicksilver will not have indexed your newly created folder yet, so you have to manually drill down. No big deal.
Retrieval
Finding a file is extremely simple, thanks to Mac OS X and the OCR software included with most scanners these days, including the Fujitsu ScanSnap. Since the files are simply living as normal files within the OS, Spotlight search finds them with ease.
Hmm… I had that cool novel about Big Brother… what was it called?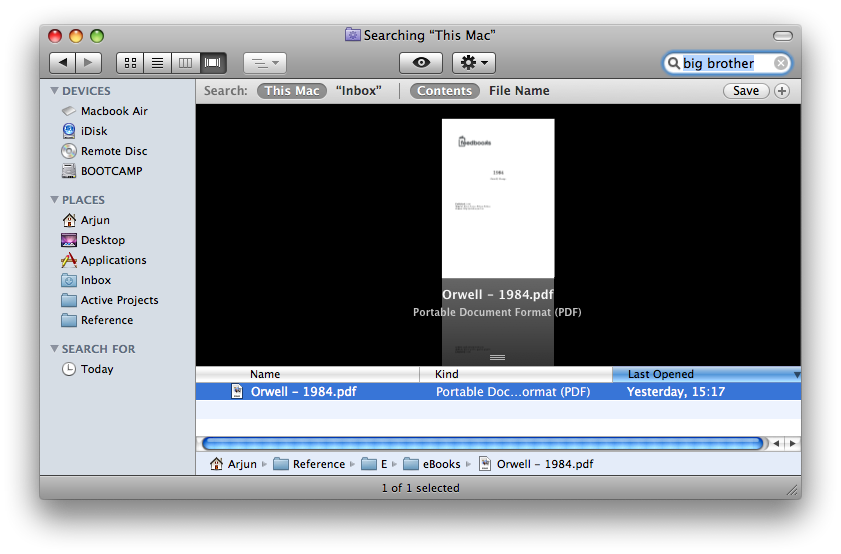 Ah, there it is!
That's my portable filing system. It's flexible, cross-platform, and I can whack all my files on a thumb drive and walk to Windows as well. If you enjoyed this, be sure to stay tuned to Mark's blog right here and my new blog over at The Productive Student.