I've talked before about how the paperless office is still a dream. As I look around my desk right now, I have stacks of paper requiring my attention in various places. We are halfway through 2007. Seriously, weren't we supposed to have flying cars and robots to do the dishes and fold the clothes by now? A paperless office seems like it should be normal by now, but it isn't.
One of the things that has hindered the adoption of paperless technologies is the fact that they concentrate on the "paperless office" instead of focusing on a "paperless workflow".  For example, if I have a paperless office that requires printing out incoming documents, signing them and then scanning them back in again, I have created more work for myself instead of less. A truly paperless office needs to provide some type of mechanism for dealing with these routine types of paper handling type tasks without creating more work.
I'm going to do an experiment and see just how paperless of an office I can create. I'll keep the readers of Productivity501 updated on my progress and thoughts along the way. Hopefully the community will have some ideas to help steer me in the right direction. Here are the constraints:
I'm willing to spend up to $1,000. I'm trying to avoid solutions that would be out of reach for a normal home office. $1,000 might be a little on the high side for most people, but with technology getting cheaper, it seems like a reasonable place to start.
Must be convenient. I'm not willing to go paperless just for the sake of being paperless. It has to actually make my life easier. Just getting rid of storage space doesn't make my life significantly easier. The retrieval and use of my documents must save me time.
Doesn't have to be fully paperless. In keeping with the idea that it must be convenient, I'm going to assume that a completely paperless office is impossible. So this experiment is more about trying to see if an investment in paperless technology is worthwhile.
Reproducible by others. I make my living working with technology. This solution needs to be something that other people can realistically implement without a degree in computer science.
OS X & Linux. I don't have anything against Microsoft, but right now I don't use a Windows based machine, so the solution needs to work with my existing equipment.
I have a certain amount of equipment already. Here is a list:
Powerbook G4 17 inch. (plan to upgrade to MacBook Pro when the LED screens come out for 17 inch)
24 inch Dell monitor.
Canon LiDE 70 Scanner
250 GB External Hard Drive
Ubuntu Linux Desktop with 320GB hard drive.
Sony Ebook Reader
Blackberry 8700
Deskjet 970 Cse Printer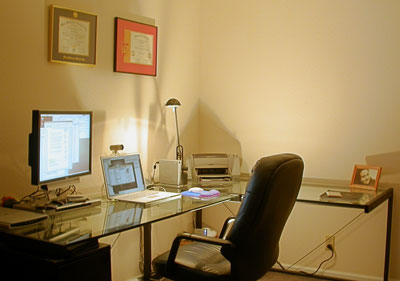 I'm looking for advice in this area so if anyone has any experience or suggestions for moving to a paperless office, please leave me a comment with suggestions or links to resources.