When people think of a paperless office, they usually focus on how to store documents in a digital form. This is important, but it misses the real point of going paperless. The real benefit comes from creating documents in way that they are digital for the entire lifetime. Once a document gets printed out, you've broken the paperless life cycle.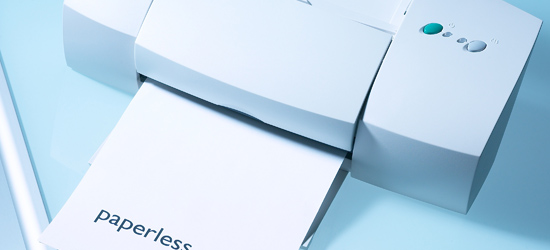 This is why scanners are simply a stop-gap solution for paperless offices. If your paperless system is set up right, scanners should only be needed to handle documents from people who aren't yet paperless. So how do you create documents that can remain paperless for their entire life cycle?  Here are some areas to think about:
How will others consume?
When you create documents, you have to think about how others are going to consume them.  Even if you have a paperless office, a large monitor and tools for dealing with documents, not everyone you send documents to will be in the same boat. For example, if you are creating a long document as a PDF, saving it formatted in two columns for legal sized paper makes it very difficult for people to read on their monitors because they have to scroll up and down, and most people can't show an entire legal document on their monitor because the aspect ratio is wrong.
If you don't want people to print out a document, make it easy for them to read on their monitor. This may mean formatting it in a landscape layout or using larger fonts that will look good on normal-size computer screens.
How are forms handled?
A PDF or Word document that gets printed out, filled out with a pen, and faxed back to you not only uses paper, but it requires you to retype everything they have written back into your database. If your paperless office setup involves a lot of copying information off pieces of paper, it is just silly. Unfortunately, this is one of the main ways we share information.
Here are some other options to keep your paperless office forms in the digital domain:
Acrobat Professional will let you create a form that other users can save and send back to you–even if they have the free version of Acrobat. This keeps everything in the digital format.
Acrobat will also let you send out a form that submits its information to your server, which means it can be put directly into your database without requiring you to retype it again. If things are set up correctly, you can then go and pull up the form to see what it looks like in the PDF as well as access the data from your database program in searches and reports.
Web forms are reasonably easy to create and can take information and put it directly in your database for you. This can be a key part of your paperless office if you need to collect a lot of information from people.  At the very least, a web form that makes sure the user fills in the required fields and then sends you an email with the information helps keep everything in a digital format from start to finish. Many customer relationship management programs will let you create a simple webform that can be emailed or embedded into your webpage to collect information and keep it tied to an individual's data record.
Handle signatures
Signatures are a very common reason people print out documents. You send me a PDF, I print it off, sign it and fax it back. There are several ways to handle this. You can't expect everyone to have their signature scanned in so they can just add it to a PDF and send it back to you. The ideal solution is for people to use digital certificates and digital signatures, but that requires a bit of technical knowledge to set up. Other options include online digital signature and approval products (see Echosign Review and Docusign Review). I have seen some products used by mortgage companies that verify your identity using public data and then use that to verify you have signed a document by clicking "accept" in their web application.
It is important to ask yourself why you need a signature on a particular document. Obviously, there are times when you need an actual signature, but there are also times where it is just a left-over formality from a different era.
Annotations and markup
Another common reason to print something out is so you can mark it up and add notes. PDFs, Word files and many other formats offer this capability, but many people don't know how to use it. Even people who have put a lot of effort into creating a paperless office for themselves often resort to printing, annotating and scanning documents.
Sometimes a little education can go a long way toward keeping people from printing out a document. Showing a business partner how to add notes and track changes in Word can help make them more productive, save both of you time, and eliminate thousands of pages of printed material.
I was working with a client who was writing a book for one of the top publishers in the US. The publisher's editing process was ridiculous! They were still stuck in the way things were done with typewriters. Everything was passed back and forth using red pencils to mark up and FedEx to ship the paper around–and this was from the people who do this all the time for a living.
Don't assume your business partner knows how to use their own tools. If you plan to be sending something back and forth a lot, take the time to agree to use your tools at the beginning and work out any kinks or problems up front. It will save you time in the long run, keep your office more paperless, and help reduce the amount of paper consumed on both ends.
Consider new devices
As digital ink devices become more common, it may be worth looking at producing documents that can be read on devices like Amazon Kindles and Sony EBook readers. Also, many cell phones are adequate for reading. Ask yourself why someone might print out a particular document. If it is a newsletter that they want to take with them to read on the train, maybe it makes sense to format it so they can easily read it on a phone. If it is a long document that people may not want to read on their computer monitor, maybe offering it in the EPUB format would let people use it on their e-ink devices.
Conclusion
The technology for paperless offices is here, but to reduce paper consumption, individuals are going to have to think carefully about the entire document life cycle and take steps to reduce the amount of paper that is needed.