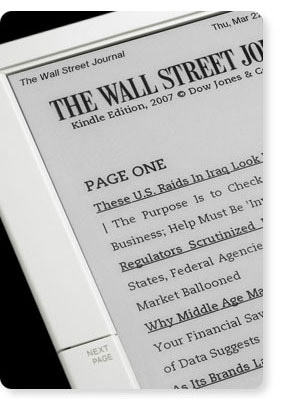 Today Amazon released their ebook reader called Kindle. I have the original Sony Reader and I've been pretty impressed with it. The new version makes a few small improvements, but is still a similar device.
Even though the Kindle is based on the same e-ink technology, it takes a very different approach than Sony. One of the biggest differences it the way books are distributed. Kindle comes with built in EVDO networking. EVDO is the same technology used for high speed connections over the cellular network by Sprint and Verizon (AT&T uses something different). Instead of requiring users to get a data plan for their Kindle, Amazon packages the cost of the wireless service into the books they sell.
Most of the books look like they sell for $9.99, but the place where I think the Kindle will really shine is the magazine and newspaper subscriptions. Most of the time when I buy a book, I want to keep the physical copy on my shelf. There are some technical reference books that I don't care to keep around because they are outdated so quickly, but for non-technical works I want to be able to pass them on to someone else, etc. Magazines and newspapers are different. I expect to throw these away when I'm done reading them.
The Kindle allows you to subscribe to major newspapers and magazines and they will be automatically downloaded to your device. This is pretty attractive. I was trying to subscribe to the Wall Street Journal last month only to find that they don't deliver to this area. I would have had to wait a few days to get it through the mail, so I didn't sign up. With the Kindle I could have it on my device first thing in the morning.
If you have Word documents you want to read, you can simply email them to the device. Amazon will take care of changing the formating when it transfers it over the wireless network. You pay a small fee for this transfer as you do when subscribing to blogs.
The device also lets you browse Wikipedia and it appears that this is done at no charge. Here are a few other highlights:
The ability to search all of your content. (This is something that the Sony doesn't do.)
Full thumb style keyboard.
Bookmark pages and take notes.
Next and Back bars on the side, which try to mimic the actual turning of book pages.
Memory slot for additional storage space.
Purchases are backed up on Amazon so you can restore them if your Kindle is lost or stolen.
Built in dictionary. You can highlight a word and see the definition. (I think this is a huge advantage.)
All in all it sounds like an excellent start for Amazon. My Sony Reader does what I need for now, so I probably won't buy a Kindle for some time. For me the the "holy grail" of ebook readers is something that has a 8.5 x 11 screen and allows you to display PDFs. The would open the device up to people who have volumes of PDF documents–especially students dealing with journal articles.  It would also allow you to read documents you've scanned in from regular paper. The Sony Reader claims to read PDFs, but it is pretty much unusable. For the type of books you are likely to buy on Amazon the Kindle seems to really hit the mark.