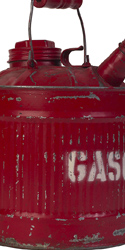 Most people are concerned about the high cost of gasoline. The countries that produce oil are, of course, thrilled. In the Middle East, people are paying millions of dollars on car license tags with unique numbers. Evidently, having a Rolls Royce isn't enough to make you stand out over there. Saeed Khouri paid $14 million dollars to be able to put a license tag containing "1" on his car.
People living in the US and other countries that are primarily consumers and not producers of oil are less fond of the current pricing trend. However, in an effort to always discover the silver lining, we are going to look at some of the potential benefits of expensive oil.
Technological investment. When oil is cheap, it can be hard to justify investments in research that will be necessary to move away from fossil fuels. When oil is expensive, there are more commercial options for fuel. Even technologies like hybrid vehicles start looking more cost effective. A period of expensive oil gives companies a chance (and motivation) to innovate in areas that might not normally be profitable. It encourages them to take risks that no one could justify when gas was $1.50 a gallon.
Bringing back manufacturing. With expensive fuel, some of the manufacturing that was outsourced to China is coming back home. This is particularly true for heavy items. Don't expect all of the factories to move back, but when a new business is starting up, they are going to be more likely to at least consider keeping things local.
Local food production. When it is expensive to transport food, it starts making more sense to grow crops close to where they will be consumed. If farmers can get more for their produce at the local farmer's market or by selling directly to a grocery store, they may be more likely to grow crops that they had previously abandoned due to the cost of physical labor. These types of crops produce more jobs which can help lower unemployment.
Preventing urban sprawl. People will tend to cluster together more when transportation is expensive. While this isn't always good, it does have some benefits of allowing technological investments that are only practical in densely populated areas. It also helps cut down on the number of vehicles people need.
Public transportation. There are some great benefits to public transportation, but it is hard to justify the expense when most people don't use it. With the surge in gasoline prices, many more people are looking into public transportation and it is much easier for cities to justify the expense when it is being heavily used. Even if gas prices come back down, the shift in mentality may stay and keep people using public transportation, which would help keep gas prices low.
Work arrangements. Utah is moving most of their state workers to a 4 day work week. Companies are working out telecommuting arrangements in order to retain employees whose paycheck isn't going as far as before. (Now is probably a great time to approach your boss about a work from home arrangement.) Over time, these types of shifts may establish new work models as a norm.
Maybe I'm being optimistic, but (barring a total economic colapse) I think we are going to see some benefits from high gas prices over time. When the price of oil falls again, maybe some rich people in the Middle East will have to settle for double digits instead of single numbers on their license tags.