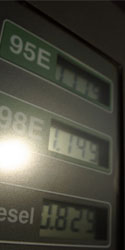 While visiting relatives last week I saw some television. Since we don't have a TV hooked up to watch any type of broadcast programming, it was interesting to see some of the things that are on now days. On one show (I think it was the O'Reilly Factor) the host was interviewing someone who had written a book about oil, oil prices or something like that. The host kept asking the guy "so who sets the price of oil." The author tried to explain that it was a market, but the O'Reilly didn't seem to get it and asked, "so does OPEC set the price of oil?"
Then I saw on the news that several presidential candidates are contemplating a gas tax holiday during the summer months. This leads me to believe that they don't have the slightest how the price of oil is set either. While I'm not an expert by any means, I've come to the conclusion that I know more about how the price of oil is set than 66% of the leading presidential candidates and at least one television host, so I'm going to go ahead and explain it here along with some thoughts on how to lower gas prices. Feel free to correct me if I get something, wrong or you disagree with anything I say.
There isn't a person out there who is "setting" the price of oil. Oil is sold on a market. That means if demand goes down, so does the price. When demand goes up, the price goes up until it gets to the point where the supply meets the demand. This is the same way that stocks work. If thousands of people own stock in a company there are almost always people who want to buy and people who want to sell. Joe owns stock and wants to pull it out to buy a house. Sue just got an inheritance and wants to put it into the stock, etc.
Stocks
If I want to buy a stock, but I'm only willing to pay $10 and Joe wants to sell his stock for $12 it would appear that we are at a standoff. But in a large market this virtually never happens. There is usually someone willing to sell for the price someone else is willing to buy. It is extremely unlikely that hundreds of thousands of people who own a stock are going to somehow think it is worth significantly more than everyone else who doesn't own the stock. The price that the stock trades at is consider its price–it is the value that people have agreed the stock is worth. It isn't determined by anyone–it is determined by everyone. Oil prices work the same way.
OPEC
OPEC is an acronym for the highly creative name of Organization of Petroleum Exporting Countries. It was founded in 1960 and basically is a bunch of countries who get together and collectively decide how much oil they are going to sell on the market. They can't directly control the price, but they realize that if everyone floods the market with oil the price will go down. In fact this happened in 1986 because of a great decrease in demand for oil.
Now OPEC has an extremely delicate balance. If prices are high, countries don't mind scaling back their production to keep them high. However, if the prices go lower countries that need money may be tempted to sell more oil to try to make more money on volume. If they break from the production quota they have been assigned, it will eventually force the prices lower because it will reduce demand. It will also tend to undermine OPEC because other countries will want to up their production to make up for the lower prices.
Currently the members of OPEC are putting out about 30,000,000 barrels of oil each day–about 2,000,000 lower than the world capacity of OPEC countries. No country has a huge incentive to up production because they are so close to maximum production already–and since prices are high they aren't hurting for money.
Gas Tax Holiday
Right now the federal US government imposes a tax of 18 cents per gallon on gasoline. The tax holiday proposes to eliminate that tax during the summer months. This is an absolutely horrible idea. It would only temporarily lower the price. I know people who have stopped traveling in their RV because of the expense. If the 18 cents was enough to convince them (and others like them) to head back out to the road, it is going to increase demand. In fact anything done to temporarily lower the price of gas is going to increase demand. So lets say we lower the price by 18 cents for 3 months. When fall comes around and the tax goes back into effect, the price of gas will have risen to take into account the increase in demand. So in the end, everyone is worse of instead of better.
I'm all for the government lowering taxes, but this suggestion is very scary–especially coming from people who want to lead the country. It reveals a fundamental lack of economic understanding. It is the type of thing that a politician will do to try to look good in the short run, but is harmful in the long term. It is easy to come up with ideas to make yourself look good when you ignore the consequences 6 months down the road. (For the record I think the rebate check was a bad idea too.)
Lower Gas Prices
So how do we lower gas prices? Simple, we have to lower demand. OPEC is not going to be able to keep countries within their quota if everyone is being asked to operate at 30% of their production capacity.
The cool thing, is that everyone can do something to lower demand–and it isn't even that hard. There are somewhere around 135 to 145 millioin working adults in the US.  We will limit our calculations to just include them. Imagine that everyone figures out a way to reduce the amount of gas they spend by 1 gallon each week. This translates into driving 20 to 25 miles less each week. According to my calculations this would save around 1 million barrels of oil each day which would reduce global demand by about 3%.
140,000,000 * 52 (weeks in year)/ 365 (days in year) /19.5 (gallons per barrel of oil) = 1,022,831 (gallons of gas saved)
Yes I know these are all approximations. Yes I know that not everyone has a car. But keep in mind that we are just looking at the working population. There are many other people who we haven't even included.
So how do you save one gallon of gas each week? You act in your own self interest to save money by driving less. For most vehicles this works out to driving about 20 to 25 miles less per week. Most people would save this amount of gas if they just planned out their travel a bit more carefully. Instead of going to the store twice each week, plan ahead and go once. Better yet go once every two weeks. Here are a list of very simple things you can do that will save gas. It doesn't take too much to save a gallon each week:
Using a shopping list and go to the store once per week or once every two weeks.
Invite your neighbor to go shopping with you. (If they don't drive their car, you've saved gas.)
Car pool to work. Average commute distance in the US is 32 miles per day. If you can car pool one day, you will have saved your gallon of gas for the week. With gas prices they way they are, it should be easier to find people willing to car pool than 5 years ago.
Work from home. If you can work from home one day per week or even one day every other week, it will result in tremendous gas savings.
Defer trips. Keeping a list of places you need to visit and then batch them together will save you time, but it will also save you gas. Just keep a "shopping list" of places you need to go for the week and look for ways to batch them together.
Local vacations. Spend 15 minutes looking for nearby vacation spots. If you live in Florida and want to go skiing, this isn't going to work, but it is easy to overlook great opportunities in your area of the country simply because you aren't looking.
Ride a bike or walk. This isn't a good option for a 100 mile daily commute, but riding your bike a few miles to the post office or on other errands can contribute to saving gas and to your health.
The biggest thing you have to do to save a gallon of gas each week is to simply think about it. Notice that none of these suggestions are really stopping anything important. There are a lot of opportunities without really changing your habits or lifestyle. It is just a matter of spending a little bit of effort to minimize the time you spend in your car.
The great thing about trying to save one gallon of gas per week is that it saves you money and it saves you time. Depending on where you live it will probably saving you over $175 per year at current prices. That may not seem like a lot of money, but if you can make $175 with very little effort it is well worth it. In fact, if you figure in depreciation and maintenance on your car, reducing your driving by 25 miles per week is probably going to save you closer to $676 per year.
This isn't the first time we've had a high oil prices.  Back in the 80s there was a gas crunch. People reduced consumption and switched to more efficient vehicles and it drove the prices back down.  I have a 1986 BMW 325e.  It is my understanding that the "e" stood for "efficient" and was built in response to the gas shortage.  It can get 32 MPG on the highway which still isn't bad for a car that was made over 20 years ago.
I can't tell you how much a 3% reduction would lower gas prices. But I can tell you that reducing demand is going to get us a lot further than any temporary tax break or other short term fix.