SpiderOak offers a service similar to Dropbox.  However, where Dropbox seems to be concentrating on ease of use and simplicity, SpiderOak seems focused on creating powerful software with many different options. The downside is that SpiderOak isn't something you are probably going to have your grandma setup for herself.  The upside is that it lets you do all kinds of things that aren't possible with DropBox.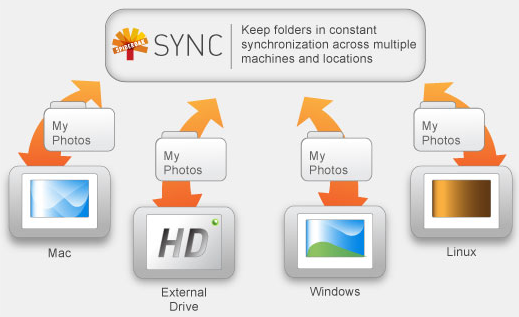 DropBox gives you a folder that you can sync across computers.  This works well and provides a very simple mental paradigm.  "I put something in the folder on Computer A and it shows up on that folder on Computer B. Spider Oak lets you backup arbitrary folders and lets you specify certain folders that you want to sync.  For example,  you can tell SpiderOak to backup all of your documents to the server and keep your music folder synced between your laptop and desktop.
In addition to backing up specific folders, SpiderOak lets you backup files by type.  So you can backup all your music, all of your movies or all of your emails based on what type of files they are–not where they are stored on the computer.
Security
Files stored on Spider Oak's servers are encrypted on your local computer and stored encrypted on the server. This means that Spider Oak can't see whats in your files or even what your folders and files are named.  They had a lot of requests for web access, so they have created the ability to access files through a web browsers.  This is done by storing your password in memory to decrypt the files and send it to you over your web browsers SSL connection. Once your session is closed, your password disappears from memory. This is much less secure than using the client where the entire file is encrypted and decrypted locally and Spider Oak recommends against using the web interface for highly sensitive data. Still, those pictures of your company picnic probably don't represent a huge security risk.  The web browser access may be very convenient depending on what data you are storing.
Sharing
SpiderOak lets you share documents through "Share Rooms".  Basically you create a share room that has a SpiderOak URL. and a password.  You can then add items to the share room, so you can share one folder from your PC and another from your Mac, etc.  Users can download files by clicking on the download link on the website.  When you update files in a local folder that is being shared, it automatically updates the share room with the new version of the file.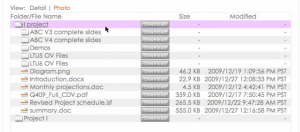 Pricing
Spider Oak offers 2 GB for free (same as DropBox) and 100GB for $10 per month.  The 100GB option is half the cost of DropBox. For $10 per month, Dropbox gives you 50GB of storage.
Also see: