Collaboration on large, complex projects can be a big hassle. Giving out hard copies can create an even bigger mess if someone loses his or her copy of the information! Most of the time it is just plainly more productive to solve a problem once and for all, instead of solving that same dilemma multiple times.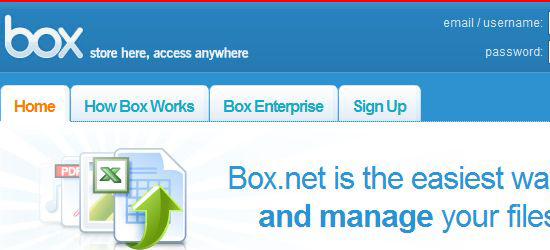 The people at Box.net have come up with a neat new way to share and edit information efficiently, making it possible to access all informational aspects of a project in the same place! This product streamlines the communication between team members or departments efficiently and competently.
However, although Box.net is a logical choice for the workplace, it could also be used for family and friends to upload and share photos and other family documents. The primary focus of the program is to encourage ease of communication and to facilitate file sharing for work purposes.
Box.net's distinguishing characteristic is that it is developed specifically to streamline the communication process and make it less convoluted. Compared to other means of sharing information, Box.net is very well organized and thought out. Instead of using the difficult-to-organize email attachment method, the user of a Box.net account is able to keep all relevant files in a single location.
The log in page at Box.net is simple and efficient, and the log in tab is very visible on the home page.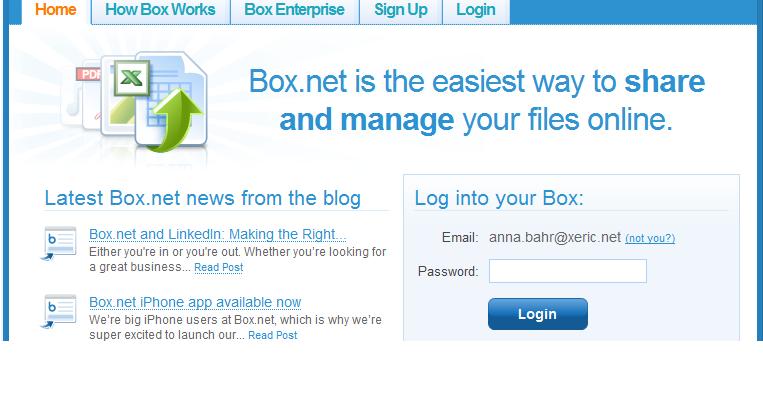 Box.net becomes particularly useful when the user needs to share documents that are too large for email. Some such items that the user could share with a client, family or friends are documents, photos, videos and other information. The file system for this product is very straight-forward and well organized. When the user creates a new file folder, a unique URL is generated for the folder. That URL can then be sent to the collaborating party for access to the information in that particular folder.
Another benefit for Box.net users is the heightened security measures that the development of this product ensures. As formerly mentioned, each file folder has its own specific URL. Allowing a second party access to this folder does not jeopardize other information in other, separate folders. This aspect of security is a marked departure from other file sharing services in which other files are decidedly insecure.
An additional ability that Box.net gives a user is that that user is given an administrative status over his or her information. The user may add or remove collaborators to certain folders, give them permission or deny access to specific folders and information and also may make folders absolutely private. This option prevents anyone but the user from accessing the data in question. This unique set up allows the user to have complete control over all of the data in the account and who accesses it.
After logging in to the user account, the system takes the user to the "My Files" tab. This screen displays all current projects and gives the user the option to create new folders.
At this page, the user is given the options to create a new folder for future sharing (the folder is kept private until further notice), create a new collaboration folder (for file sharing) or uploading new files to existing folders.
Under the "Collaborators" tab, the user may give permission to certain users to access a specific folder through a unique URL.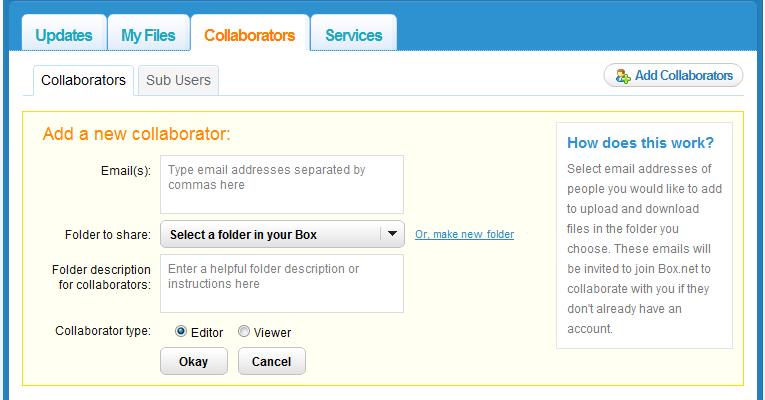 In addition to these other aspects of the product, Box.net offers built-in editing programs for previewing and editing files, photos and spreadsheets in the user's own web browser. All of these tools are under the "Services" tab. All of the tools that I will discuss here are provided even with the free "Lite" version of the product.
The first of these free tools is iPaper, which allows the user to preview PDF files,  Excel spreadsheets, Word Documents and Powerpoint presentations in the web browser without downloading! This allows the user to allocate more time toward the collaborative project, rather than toward waiting on the download speed of the system.
A second free tool that is already provided is a photo editor, Picnik. For those users that wish to edit and share family photos, this is a very efficient way to avoid dealing with a complex photo editor, plus the fact that it comes free with the account.
The last of the tools provided by the "Lite" account is Zoho. This application also allows for the editing of spreadsheets and other documents within a web browser.
One application that is particularly conducive to productivity is the new iPhone application that allows mobile access to a Box.net account. For fast-paced collaborative projects that require constant communication and input, this application makes life easier for both team leaders and team members. This free application lets users scroll through all files in their account and also supports all file types supported by the iPhone, itself, keeping compatibility issues from being a problem. For user convenience, the application also allows the user to upload photos in the iPhone library and upload photos recently taken. For those team members that also have iPhones, collaboration from iPhone to iPhone is also a helpful option. The ability to monitor updates to the account and to see the progress of other team members while on the run is a definite advantage, as well as a convenience. As a side note, this application also compatible with the first-generation iPod Touch.
Unlike many services touted as productivity aids, Box.net is a well-thought-out and purposeful product. The fact that the service is offered at different levels from the free "Lite" version up through the Individual, Professional and Enterprise versions is a definite benefit for those that wish to upgrade in the future. The developers of this application have also made the product available for mobile use, which allows a busy person to use time for business work that would have otherwise been lost because of a lack of computer access. The ease of use and additional security that Box.net offers make it a useful and practical time-saving tool for businesspeople and others, alike.