Email is one of those things that can be both a great time-saver and a huge waste of time. The idea of being able to send a message to someone across the country and get a reply back in hours or even minutes is amazing, even though we take it for granted. Unfortunately, email has become a victim of its own success, and it's easy to drown in the huge volume of electronic messages that come in each day.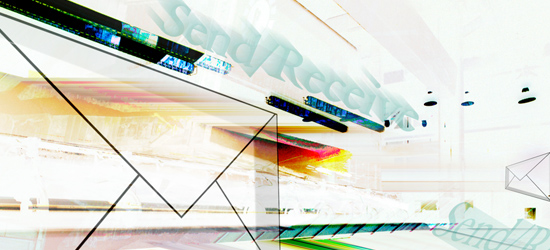 In this article, we are going to look at some ways to help reduce email overload by looking at strategies and methods for getting the most out of email without letting it run your life.
Multiple Mailboxes
Not all email is created equal. Some email you never want to see. Other emails are extremely urgent. Still others need your attention, but only when you get around to it. What I'm about to describe is a system I use to make sure I can quickly filter out emails based on their priority or my focus at that moment in time. This system isn't for everyone, but it seems to work well for my needs at this point in time.
I have three email addresses/boxes.  We will call these Primary, Secondary and Marketing:
Primary Email – This is the email address that you give to people who need to get a hold of you quickly. It is the one that shows up on your cell phone and the one you will check most regularly. This should probably be your primary business address.
Secondary Email – This is the address that you will give to people who you want to hear from, but there isn't any harm in waiting a few days to get back to them. This address would go to your mom who might enjoy forwarding lots of jokes or to your friends from college. This is probably where your Facebook notifications would be sent. You also might use this address for companies you do business with and want to hear from about their sales, etc.
Marketing Email – This is what you use when you need to use an email address, but you don't really want to hear from the entity unless you initiate the communication. You might only check this email every few days or few weeks. Use it on sites where you need to do email verification, but you don't necessarily trust them. (This is the email address you'd give to Omaha Steaks, since they seem to think you'll be interested in buying large quantities of steak 4 or 5 times every week.)
I use Apple Mail, which lets me view individual mailboxes or see the contents of all the mailboxes together in chronological order. If I am trying to focus on work, I will just look at my primary email box. If I'm wanting to catch up with family, I'll look at the secondary email box. If I'm just checking all my mail, I'll look at the combined view and quickly delete anything that is irrelevant.
Another twist on this strategy is to change your primary email address occasionally and forward the old one to your marketing email box. That way you don't lose anything that comes in from people with an old address, but you can update people who are your current contacts and help reduce the amount of clutter you get in your primary inbox. This may not be necessary if you are careful who you give your email address out to, but for some people, it can be a simple way to clear everything out every few years or so.
Batch Your Email
Deal with email all at once in a batch. You don't want to deal with one email, work on something else for 10 minutes, and then answer another one, etc. When you are in email mode, be in email mode, but don't keep jumping back to email when you need to be working on other things.
One of the easiest ways to not do this is to have your notifications set up to ding, dance, or bounce whenever an email comes in. The last thing you need is something jumping around on your screen or making noise every time a new messages hits your inbox. Turn off the notifications. The emails will be there when you check them. Trust me, they won't go anywhere if you wait an hour to read them. A good percentage of the problems from email overload is  getting interrupted constantly.
If I had a lot of employees, I would seriously consider setting the email server so it only put the mail in their mailboxes once each hour at the top of the hour. This would keep most of the benefits of email without the constant random interruption.
Train Yourself
The  constant interruptions from email overload notifications is that it trains you to not launch into projects that require deep concentration. So what ends up happening is this: You start to think about starting a project and your brain says "Wait! What if an email comes in?". Subconsciously, you check your email icon to see if there are any new messages. You get ready to start the project and your brain says, "you'd better look in your inbox just to make sure." Pretty soon you've spent 15 minutes doing pretty much nothing but feeling like you were working.
Go ahead and shut down your email program for a while when you need to be working. The emails will all come through just fine once you turn it back on. But if the program isn't loaded, it is just a little bit easier to resist going back in to look at the mailbox.
I'm speaking from experience here. In writing the last two paragraphs, I caught my eyes wandering over to check my mailbox at least three times. Give it a try. Close your email, only open it intentionally, and see if you start getting more done.
Don't Repeat Yourself
If you find yourself sending the same message over and over again, find some way to stop repeating yourself. Anything you can do to reduce the amount of time you have to spend handling messages will reduce the impact of email overload. You could use templates to answer frequent questions. This could be as simple as a text document with a handful of pre-written messages that you can simply copy and paste when needed. Most customer relationship management systems have actual template's systems where you can reply to a message with a template that includes the recipient's name in the greeting. Here is some information for creating templates in Outlook. Here is a template program for Apple Mail.
Another aspect of not repeating yourself is to see if you can stop the questions in the first place. Can you add a FAQ section to your website to answer common questions? Is there somewhere that needs clarified instructions to reduce questions? Sometimes simply changing a few words in instructions can make a big difference in the number of people who get confused.
Keep Records
Customer relationship management systems can track all emails to and from particular person. This can be very helpful because it lets you view things in a recipient-focused context instead of chronologically. Relenta is one system that does this well that we've talked about in the past.
Sometimes it can be useful to have a historical archive of all of your email messages for the past year. Sometimes this can make it more comfortable deleting messages that are several years old. If you know you can go back and find a message if you absolutely need it, there is a lot less discomfort in clearing out those messages you just might need sometime, but probably won't.
Outlook lets you do this using .PST files. You can also print a collection of emails to a file or PDF for storage before deleting them.
Conclusion
Email is part of our daily lives and definitely not a fad that is going to go away. It is unlikely that you'll be getting fewer emails 18 months from now.  Carefully managing your mailboxes and email habits can help make sure you are getting the productivity benefits of email without letting it turn into a huge time sink.
What methods do you use to manage your email that work well?