Last week I talked about how I use IMAP for my main accounts. I do have some Gmail addresses as well, and I think I've come up with an optimal setup for keeping things synced with my main laptop computer. Basically I only download emails to my main laptop. If I need to read something from somewhere else, I'll use the web version and look under the archives if I need to lookup older emails.
Under Settings > Forwarding and POP you'll want to Enable POP so you can download it with your email client. Then you have to decide what to do with messages once you've downloaded them. You can keep them in your inbox, delete them or archive them. I prefer to archive them. That keeps them around in case I need them, but it makes it easy for me to see what is new if I have to use the web version when my laptop is off and isn't downloading emails.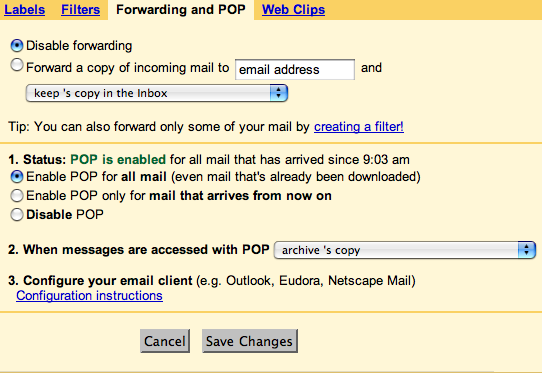 This has been the best settings I've been able to come up with. Has anyone else found any better ways to handle Gmail when you want to download to an email client on your local computer but still get access from the web?