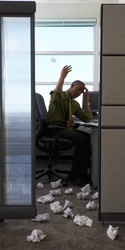 Businesses have much to gain by moving to paperless communication with their customers. Just think how much money credit card companies could save if even 5% of their customers switched to paperless communication. The problem is that most companies seem to get the whole idea of "paperless" wrong. Their solution for people who want to be paperless is that they will send you an email notifying you that you have a statement. Then you can log into their website and download the statement as a PDF. This is about equivalent to having a mailman who knocks on your door to tell you there is a letter for you at the post-office.
This reflects a type of arrogance (or stupidity) that is typical of today's big businesses. It works just fine for customers who don't do business with other companies. But consider a customer who works with 10 different companies. Every month they have to log in and download statements from all these different companies. It simply does not scale. From the companies' standpoint, they don't care about the other companies you interact with and would just as soon have you do business with only them.
The reason businesses are hesitant to send you statements through email is because email is insecure. Theoretically, someone might be able to intercept the traffic and see your email. Of course, people could open your mailbox and take a peek at your phone bill as well, so in practice, it isn't any less secure than the mail.  Sprint seems to recognize this and they are happy to send you bills as PDFs in an email message.
There are ways to make it secure using public/private keys. You give your bank a public key. They encrypt your statement with this key and send it to you. Only your private key (which isn't shared with anyone else) can decrypt it.
Unfortunately, the vast majority of people using email aren't using any type of encryption, so a lot of companies don't even try to design systems that take advantage of secure email communication. For customers, this type of system is ideal. Your bank sends you a statement. It shows up in email and you simply drag it to your electronic file cabinet. The only better way would be for your document repository to talk directly to your bank and fetch the documents without even going through email.
Much of what is holding back paperless communications is a lack of encryption and digital signatures. The technology exists, but it just hasn't become prevalent enough to make it useful on a wide scale. It is kind of like being one of the first 10 people with a fax machine. Once the novelty wears off and you tire of sending messages to the other 9 people, it doesn't do you much good.  It only becomes really useful when everyone has one.
Part of the problem is that most companies who supply digital signatures are trying to make a profit. This isn't a bad thing, but they are aimed at other companies who are willing to pay a lot for their services. There aren't many companies out there who are trying to sell encryption to home users because there isn't much demand. Of course, until people use it, companies won't offer it as a way to communicate with customers. So basically, there won't be any demand until the demand exists–a classic "chicken and the egg" problem.
I think the best solution would be for some type of non-profit company to really start trying to spread encryption in an effort to help make the world more paperless.  It could even be a "green" non-profit that is trying to reduce the amount of paper consumed.  This wouldn't be a bad role for the government because it is basic infrastructure for doing business.  Of course, they would probably want to keep some type of back door access to read your emails and the results would probably be a bureaucratic nightmare.
What are the roadblocks you see toward adopting paperless practices?
Originally published July 14, 2008.