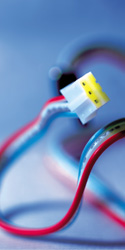 We interviewed a number of bloggers about how they manage the wires in their office setup. Wireless technology was the most frequently mentioned solution, but there are a bunch of other great ideas as well.
Organization interview question: What is your best tip for managing the multitude of wires in a typical computer setup? (182)

Use a good computer desk or table along with zip ties to keep everything out of sight

John Richardson from Success Begins Today (rss)
I've also had good luck with using double sided velcro for this purpose. Another thing that seems to work well is using black electrician's tape to tape up cables that are longer than what you need.
I use as many wireless devices as possible; I hate wires on the work surface. I use bluetooth mice, keyboards, and headsets. The wires I cant eliminate are neatly coiled and grouped with velcro or cable ties

Mark Nassal from Stress Free Productivity 101 (rss)
My wireless mouse and keyboard probably done more to clear the wires off my desk than anything else.
Besides eliminating the wires through bluetooth devices, the best thing to do is to have them all clustered together behind the monitor and out of sight. The visual and physical distraction of all of those cords drain at your focus. In a pinch, I use trash ties and rubber bands to keep all of the wires together, and I position my laptop so that the wires immediately take a run behind the TV

Charlie Gilkey from Productive Flourishing (rss)
Charlie is making an important point here. You can change your layout to minimize the amount of wires that are visible. I once had an office where my desk was positioned next to a closet. It was easy to hid things because I put a lot of my equipment (printer, network hub, etc.) in the closet. This cut down on visual clutter because I only had a few wires running out to my desk.
Bundle them together with Velcro straps. I also try not to unfurl them any longer than they need to be in order to reach from the computer to wherever the connected item is on my desk

Damian Bariexca from Apace of Change (rss)
Sometimes investing in the proper length cords is the best thing you can do. Short of that keeping the excess wrapped up tightly and out of site makes things much easier to manage.
I keep all my tech tools–scanner, printer, shredder, charger, etc.–in an armoire. A surge protector powers them all and plugs into the wall behind the armoire. Taming wires is hard, but keeping them behind closed doors is easy

Eva Holtz from College Admissions Secrets (rss)
This is a good idea if you have the furniture to do it. A closet works as well.
Try and keep less wiring around the computer. Go for a wireless keyboard and mouse and if you attach any extra peripheral for a particular purpose then do remeber to detach it later. More wires you have, the more clutter it will create
Another vote for wireless. Keeping equipment that is only used infrequently off your desk is a great idea. I have a sheet fed scanner and a flatbed scanner. Since I only use the flatbed occasionally I leave it put up and only pull it out when necessary.
Another tip is to buy equipment that uses minimal wires. For example, my flat bed scanner is powered off USB, so there is no additional power cord. My ScanSnap requires USB and a power brick. USB probably isn't strong enough to power the ScanSnap, but it sure would be nice to have a single cable.
Most cords come with a twistie tie or rubber band, so I just pull out only what is necessary and put the tie back on. But for the most people I would recommend just do whatever to get them tucked and not worry about

Ryan Cole from Practical Productivity (rss)
This helps, but you still end up with a mass of wires that can get tangled. Just getting them out of sight works well if you don't redo your desk very often.
Honestly, I just plug it all in and chuck the wires behind the desk where I don't have to think about them ;

Joel Falconer from JoelFalconer.com (rss)
Out of sight. Out of mind. :) I have a glass desk so there isn't really anywhere to hide things behind the desk.
I have so many electronics and move things around so much that I just keep them off my desk and out of sight when I'm sitting at computer. I keep them safe from the cats, and I keep the outlets handy to me.

I don't waste time trying to overly manage them or make them look good because I change things around a lot. For cable that we run throughout the house we use a staple gun to keep it attached to door ways and baseboards

Ariane Benefit from Neat & Simple Living (rss)
If your cords are thin enough, you can sometimes stuff them under the baseboard on carpeted rooms. Best Buy has an almost paper thin phone cable that works very well for this. If I could just find a thin network cable I'd be set.
The only cord in my computer setup is the power cord. I have a MacBook and I wirelessly connect to my printer, NAS, stereo speakers, and phone headset. I don't use a mouse. And, I have a virtual Windows installation, so instead of three machines I use one. On the other side of the room where the printer and NAS live, I have their wires bundled with velcro ties and labeled at both ends

Erin Doland from Unclutterer (rss)
I have done this before and I really like it, but I find I end up with very bad ergonomics and my wrists start to hurt. Also I'm kind of addicted to my 30 inch monitor. :) If the ergonomics don't bother you this can be an ideal way to keep things tidy–especially if you can keep your equipment in a closet or other piece of furniture.
The best way to answer this is to look at my article 5 Ways to Reduce Cord Clutter.

LJ from simpleproductivityblog (rss)
LJ's article has 5 methods for dealing with cords.
By best suggestion is to eliminate as many of them as possible. Go wireless! You can get a wireless version of just about anything today. Of course, many of us use wireless networks, but there are also wireless mice, wireless print servers, and wireless keyboards. Why mess with the tangles and ugliness of cables? I say throwing them out is the only way to manage them.

Jeff Nickles from My Super-Charged Life (rss)
The wireless print server is something many people overlook. Usually the best place for your printer isn't directly on your desk anyway, but many people keep it there so they don't have to run wires all over the place. My printer isn't wireless, but it does have a network connection. I keep it on top of a storage cabinet plugged into my wireless router.
Get a desk that has a back all the way to the floor :)

Honestly though, the only answer I can think of is to go wireless wherever possible. Other than that, I've had some success with rubber bands and zip-ties.
This is a very good idea, but if you live somewhere dusty, you'll have to find a way to keep it clean. I'm still partial to my metal frame, glass top desk so I can't use Sam's method.
I disconnect what I don't use (scanner, Wacom tablet, webcam and more) and store them away. I hide the rest of the wires.

Soon it'll be different, when I buy my iMac with wireless keyboard and wireless mouse, connecting to my wireless internet, integrated webcam, integrated drive, integrated everything. What wires? Maybe one to a USB hub far away, so I can connect stuff that doesn't have wireless technology

Lodewijk van den Broek from How to be an Original (rss)
Keeping things put away helps a lot. This is another reason it can be very useful to have a closet or some type of storage area where you can put everything.