Look at your desk right now. Is it messy? If so, don't feel too bad. It isn't uncommon. This post is a series of questions to ask about the stuff that is currently on your desk. Asking these questions will  help you find the cause of a messy desk and give you some ideas for stopping the disorganization at its root. This is vastly more beneficial than simply taking the time to clean your desk right now, because if you don't change your process and organization, you'll be back in the same position in a week or so.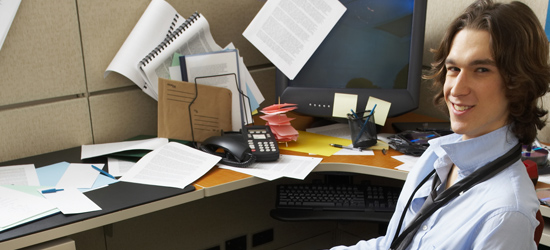 1. Do you have reading materials on your desk?
One common source of desktop disorganization is reading materials. Magazines, newspapers, etc. that come to you that you feel like you should read can consume a bunch of desk real-estate. For many people, this reading material isn't ever going to be read. It just causes clutter and slows you down in other areas. Here are some tips for dealing with reading material.
Stop it at the source. Be honest with yourself and if you are unlikely to read something in the future, get off the mailing list or cancel the subscription. There is no sense keeping it coming into your life to clutter things up.
Opt for more expensive, higher-quality publications. Subscribing to a few high-quality succinct newsletters that provide an overview of your fields of interest may be much more efficient than trying to deal with 10 publications that you have to sort through. I subscribe to the Kiplinger Letter, Kiplinger Tax Letter and Trends Audio Magazine and find that those three subscriptions cover a great deal of content I had previously tried to acquire from multiple other sources. They are short–only a few pages long–so they don't take much of my time, but they still keep me up-to-date on areas I need to know about.
Keep what you need. Glance through a magazine and identify the articles you want to read. Tear them out and put them somewhere you are likely to read them. For example, putting them in your computer bag to read while waiting at the airport or even in your bathroom can help you get the value out of them when you have time to read them.
Use RSS. Subscribing to publications through an RSS reader will let you skim a large quantity of sources and pick the ones that are of interest to you without filling up your physical or virtual inbox.
Get it in audio form. If you have time during your commute, you may be able to get audio versions of the publications you are interested in. This can improve the value of your commute while freeing up your desk from papers you want to read but will never get around to reading.
Get a bookshelf – If you have more books than places to put them, get some bookshelves. I do not recommend the the pressed-wood shelves you'll find at office supply stores. If you really load them up with books, they will bend and break. We purchased some folding, real-wood bookshelves from World Market several years ago and have been very pleased with their quality. Also, don't overlook having a carpenter build some permanent shelves for you. Sometimes the cost per foot of shelf is significantly lower and you can get them designed exactly the way you want. If money is a big issue, a few cinder blocks and 1 by 12 inch 5 foot long boards are very functional, durable and very low cost.
2. Does your desk contain items that need to be filed?
If there are items on your desk that need to be filed, but haven't yet been organized, ask yourself, "why"? Why are they still sitting on your desk? Is your filing cabinet too far away? Is the filing process a pain, so you set things on your desk rather than put them away? Right now on my desk I have several pieces of paper related to taxes that I haven't filed. I really don't have an excuse. There is a stack on a nearby desk that my assistant will scan into my paperless filing system, but I just put the paper on my desk instead of where it belongs.
Why would I do this? Over the past week, I've been very busy and I've set some items on my desk that don't really belong there. If my desk were clean other than just those two or three pieces of tax-related papers, I would probably have put them away. So keep in mind that clutter causes clutter. Keeping an organized desk will help you stay organized. Keeping a cluttered desk will encourage you to put more on it because "one more piece of paper doesn't really matter."
3. Are there papers on your desk that require action?
This is a big area of desk clutter–things that require your action that you haven't gotten to yet. Take a look at these types of papers and write a number in the corner (or on a sticky tab) indicating the number of minutes you feel it would take to deal with them, or at least take the first action that would be required.  If you have a bunch of 2 to 5 minute items, you would probably be better off doing them as they come in. Is there a reason you didn't just pay that bill when you opened it? Is there a reason you didn't sign and send back that form when you got it? Understanding why you put off the action will help you understand how to keep those papers off your desk in the first place.
Papers that require longer action may be a bit more problematic. However, is your desk the best place to keep papers like this? At the very least, they should go into some sort of inbox so they will all be together. If you have a lot of papers that require action in the future, use some sort of tickler system to remind you when they need your attention.  Of course, if you have papers that require attention, but not necessarily your attention, they can be delegated and put on your assistant's desk or inbox.
4. Are there things on your desk that don't belong there?
Right now on my desk I have a plush stuffed dog and a conestoga wagon bank. These belong to my two-year-old daughter and she has brought them to me over the past few days. While they represent clutter, I have absolutely no desire to stop her from sharing her treasures with me. That is one of the big reasons I enjoy working at home. I want to be present as she grows up, and the clutter she adds to my desk is part of that. I wouldn't trade it for the world. (That said, I probably should take these items back to the play room where they belong.)
Other things that are on my desk that shouldn't be there:
Utility knife – I was using it to open some packages and failed to put it away when I was finished.
Video camera – I use it for video conferencing, but it has somehow made its way off the tripod and onto my desk.
Spindle of blank CDs – These belong on the storage shelf, but I failed to put them away last time I used them.
As you can see, I have a number of items on my desk that simply need to be put away. This is where a messy desk breeds a messy desk. If my desk were clean, I probably wouldn't have left out the video camera; I would have put it away. However, with everything else on my desk, there is no mental anguish in adding yet another item.
5. Do you have enough storage space?
One of the best things I've done to help keep things organized is that I brought in an eight drawer dresser. Multiple small drawers make it easy to sort items and these drawers provide a great deal of storage space. Of course, the downside of storage is that you'll end up keeping things that you should really get rid of, but not having enough storage for the things you need virtually guarantees that you'll have stuff on your desk that has no home.
Conclusion
Keeping your desk organized will probably always require effort. Some people keep an organized desk naturally. Others don't. However, there are significant benefits for everyone who works toward keeping their workspace organized–whether it comes easily, or not.  The five questions above will help you better identify the sources of your disorganization and will lessen the amount of effort it takes to keep the benefits of an organized desk.