Though vacations are intended to be a time for creating a stress-free environment and enjoying some time off, they can quickly turn into another stressful situation. Most people will know what I mean when they remember the map shuffling, wrong turns and itinerary confusion. In other words, mass chaos! Though it is probably not possible to eliminate the stress of traveling, there are some effective tools that can help vacationers organize their travel information into a single, decidedly un-confusing plan. One such tool is a product called TripIt.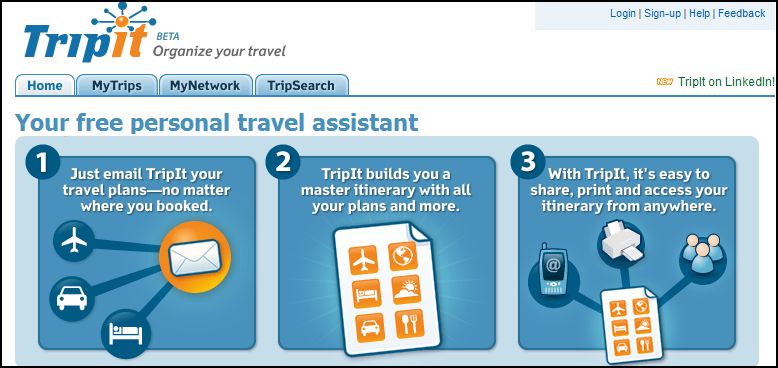 This helpful web-based tool allows the user to integrate all of their travel plans for a trip into a central document. The program takes the user through several different steps to input the necessary information. The program then sends the integrated information back to the user. This process is very hassle-free and does not take a whole lot of time. Even if it does take a bit of extra time, though, it is worth having all of the travel plans in a document that is easy-to-read and decipher. TripIt offers free services to its clients, which is really handy. All that the user has to do is provide a valid email address and choose a screen name and password.
After setting up the account, he or she can choose to create a new trip. In this step, the user enters preliminary information such as the name of the trip being created.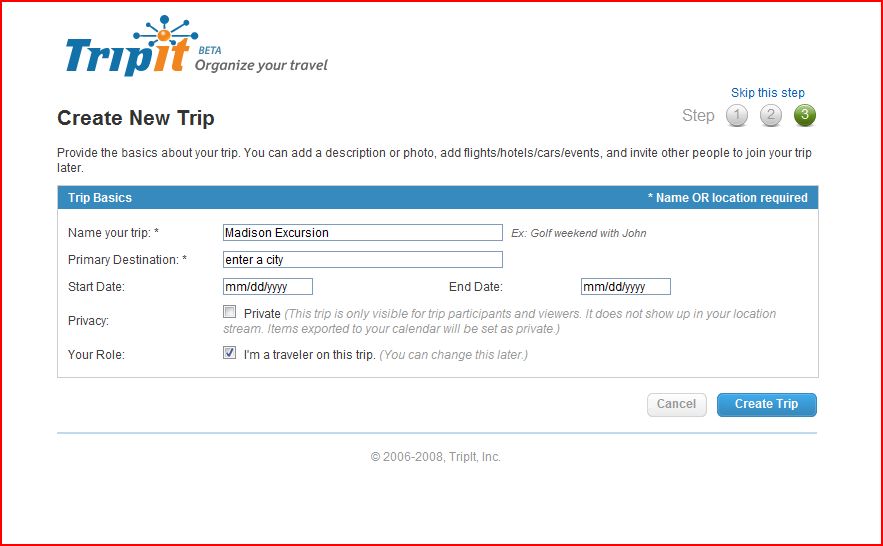 After doing so, the basic travel plans can be entered, as well as booking information. This can be uploaded by emailing it to this address:
Following uploading any transportation information for the trip, the system allows the user to send booking information for hotels or other lodgings to the site. It then integrates this information into the master travel plan. Another handy feature of the program is that it also can integrate dinner reservations in to the plan, as well as reservations for shows and other entertainment.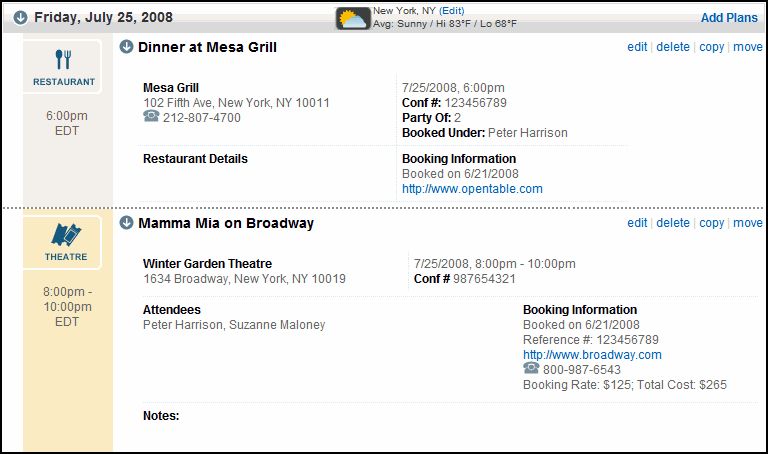 Another helpful aspect of TripIt is that it is also available for use on mobile devices. According to the site, the product will work on any mobile device that has a web browser, such as the Palm Treo, Blackberry or Apple iPhone. For those that prefer to travel with their plans in electronic form for fast reference, this could be a huge time saver. Instead of looking up multiple sites on a mobile device to get reservation information, many of the necessary phone numbers and addresses will be located at a central area for quick reference.
In conclusion, for those who travel frequently and are looking for a way to simplify their travel experience, TripIt is worth a look. On the other hand, those that travel infrequently and need an extra hand to help with organization would also benefit from using TripIt.
For more information about TripIt, visit the product's website.