As the summer months approach, I wanted to share some simple tips for traveling by car. We do a lot of travel and these are some of the tips we've found that make our lives easier on the road.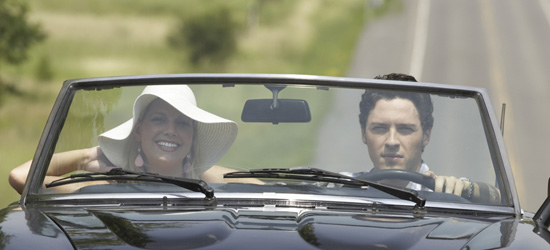 Driving into the Light
When I was younger I could drive through the night without a problem. Now I find that I get very tired driving past about 10:30pm. Tired enough that it isn't safe. By leaving early in the morning I can drive into the day light. I am much more alert getting up at 2 am and driving until 5 pm than leaving at 10 am and driving until 1 am the next day.
Podcasts
On a long trip I can make the hours fly by listening to technology podcasts. I feel better traveling when I'm getting my transportation and learning something as well. I always make sure to have more podcasts available than what I need. That way, if one is boring, I can just skip to another. I've also found that short podcasts are annoying for travel. A bunch of 2 to 4 minute podcasts will start to wear on you because you spend more time on intro and exit music/announcements than actual content.
Books on Tape/CD
Your local library can be a great place to provide edutainment for your next trip. I've covered a number of books that I haven't had time to read while driving on long trips.
GPS
My GPS has really changed how we take trips. It is much more convenient to know that you'll get off the highway to eat at a particular restaurant in 20 miles than to scour the signs trying to find a place acceptable to eat or get gas. My biggest complaint is that some of our favorite restaurants tend to move and go out of business so the GPS data isn't up to date. The GPS also lets us get more on a single tank of gas. Since we know where the next gas station is, we can go further before filling back up. On a long trip through rural areas this can cut the number of gas stops by 30% to 40%.
Highway Patrol Numbers
If you are traveling during bad weather, it can be a good idea to jot down the highway patrol numbers before leaving. Many states have a number you can call that will tell you what the road conditions are like. If the weather gets really bad, this can mean the difference between being stuck somewhere on the road and being stuck in a hotel on the edge of where the weather is really bad.
Prepare for the Worst
Keeping a simple first-aid kit, some water, and some food in the vehicle takes a minimal amount of effort. These supplies could help you avoid an inconvenient stop or could potentially save your life. Other supplies like gloves and an extra jacket are good for traveling through colder areas.
Can you change a tire? Are you sure?
It is important that you are able to change a tire on your car. If you don't know how, ask someone to show you. Even if you do know how to change a tire, make sure you know how on your car. I had a Volkswagen that we purchased used. We were on a trip and had a flat. That is when we discovered that the special adapter that was necessary to take off the locking wheel nut was missing. A service station was finally able to get it off, but we wasted a lot of time trying to deal with this oversight.
Vehicle Maintenance
Make sure your vehicle is getting regular maintenance. Changing the oil and getting regular tuneups can make your car last longer and improve the gas mileage. Most vehicles have some type of regular maintenance schedule for checking out all the types of things that the manufacturer knows can go wrong. This can range from checking and changing the timing belt to inspecting the door hinge and sunroof drains. A few hundred dollars spent on preventative maintenance is much better than a few hundred spent on fixing an issue while you are trying to drive across the country.
Check out your car
This closely related to vehicle maintenance. Take the time to notice your car. Do the brake and tail lights work correctly? Does the oil look ok? Do the tires look like they have enough air? (Edit: Pointed out in the comments, you really need to measure them. Looks can be deceiving.) Do the gauges register normal readings? Does the engine sound normal? Catching a problem when it is small can save a lot on repair expenses and can prevent an inconvenient breakdown on a trip.
Overnight Bag
Packing a single bag that has everything you need should you stop at a hotel will make things much simpler. If you plan to make a long trip in a single day, the overnight bag will give you the option of not unloading your vehicle if you get in late and want to go straight to bed. If you end up staying in a hotel along the way, it is much easier to have a single bag on top instead of digging through multiple suitcases just to find your toothbrush and a clean change of clothes.
Ration the Toys
If you travel with a small child, rationing toys can be a good way to keep them happy. Instead of just giving them a bunch of toys and heading off, divide their toys into several different collections. Give them one collection to play with and when they get bored with that, put it away and give them a different collection. This works particularly well if you use toys that they haven't seen for awhile. With our daughter, we have a few toys that are just used on long trips. We put them up the rest of the time to maintain as much novelty as possible on trips.
Chargers
Make sure you have a way to keep your cell phone and any other important items charged. We use a power inverter that will let us keep a laptop or phones charged even if we don't have an auto adapter for it. This way we can take the charges we need to use on wall outlets at our destination and use them to keep things charged in the car as well.
Prepare Your Cell Phone
Having the numbers pre-programmed for your favorite hotel chains and their frequent guest programs will save you time if you have to make an unexpected overnight stop. Programming the numbers for your destination can be very useful if you can't find it once you get to the right city.
Take care of your Eyes
A good pair of sunglasses can be worth the investment. A recent period of extended driving caused my eyes to get sore and out of focus. I replaced my sunglasses with a higher quality pair and my eyes haven't bothered me since. Also consider keeping a bottle of eye drops in the car in case your eyes get dry, dusty or tired.
Originally published June 2, 2008.