Right now my desk is a complete mess. Now I have a pretty good excuse. I am in the middle of switching over to a new laptop. I'm also in the middle of trying to switch from AT&T to Sprint for cell phone service. An order of sample  gifts for clients just came in yesterday. I have rebates from sales that are partially filled out and waiting for additional documentation that is on the way. I'm working with a graphic designer on a new logo, so I have samples stuck to my walls. I don't want to throw away any of the boxes for my new equipment so they are all stuffed under the desk or on a bookshelf. Etc. etc.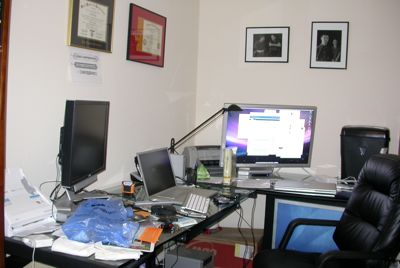 I'd like to say that the picture above is just something I found on Flickr. It isn't. That is my desk at this very moment.
In looking at my desk I realized that most of the clutter comes from problems with my system. Obviously adding an extra computer, 2 keyboards, 3 mice, 4 cell phones and everything else will fill up my desk, but there are still items on my desk that are just there because I haven't put them away.
When your desk is the messiest is the best time to evaluate your organization system. Here are the problems I've discovered with my organization system:
I used to keep my pocket stuff (wallet, keys, etc.) on a space on a bookshelf. Over time I've filled the bookshelf space and these items have migrated to my desk. I need to rearrange the bookshelf or find another place for them.
The drawer on my file cabinet is sticking. As a result I don't like to try to open it any more than I have to and papers have started accumulating on my desk to be filed. This wasn't as much of a problem when the drawer worked correctly. It is time to admit that the $15 file cabinet from Wal-mart just isn't going to meet my needs.
Various items have migrated to my desk over time that belong elsewhere. Right now I have a tire gauge that belongs in the car, two quarters that belong in the car for paying tolls, a memory card of unknown origins that fits nothing I own, and a grocery card that probably belongs in my wife's wallet. The problem isn't that this stuff is here. The problem is that it has been here for too long. I tend to empty my pockets before sitting down to work for a long stretch. I need to establish a routine where I can put this type of stuff where I will take it back out with me when I leave (and hopefully put it where it belongs).
I thought I was being very smart by creating a folder on my computer for rebates and putting all the related documents in the folder. It appears that I also need a paper folder because I need a place to physically collect things while I rip the front pages off of manuals, cut out UPC symbols, etc. The folder on my hard drive is making things easier, but a lot of the rebate forms are still easier to fill out using a pen.
So now you've seen my desk at its messiest.
Originally published in 2007.