Thanks to everyone who helped answer my questions in the previous subprime post I now have a much better understanding of what is going on. I thought I'd go ahead and explain it here. The first reason is to share with anyone who is interested. The second is so the financial wizards among my readers can correct me if I got anything wrong.
Over the past several decades home prices have been going up. This has made them a fairly safe investment. If someone can't make their payments they can always sell the house–usually at a profit–and pay the mortgage company back. In order to create as many loans as possible, mortgage companies will take a group of mortgages and turn them into a special type of investment vehicle and sell them off. This gives them cash to create more loans. For example, they will take 1000 mortgages and sell the rights to receive payment off to other institutions. Since different institutions have different risk tolerances they take the investment vehicle and divide it into several different segments. The first segment gets paid first. The second gets any money left over and the third gets any money left over from the first and second segments.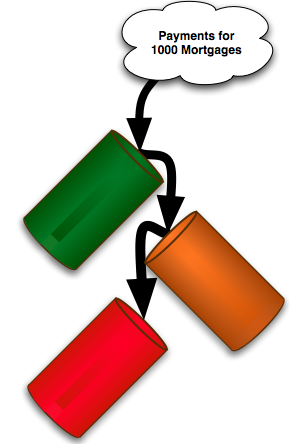 So when money come in from people paying on their loans, it first goes into the green bucket. The green bucket is sold to institutions who want very little risk. If the people who bought the green bucket have already received their money the payment goes to the orange bucket and so on.
This makes the green bucket very very safe. 66% of the mortgages would have to go into default before it would matter to the people who own the green bucket. The orange bucket only requires that 33% go into default before they start loosing money. If anyone doesn't pay, the red bucket starts losing money.
This arrangement is why there are companies willing to sell their investment for $0.30 on the dollar. If they own the red bucket there is a good chance they will get very little of their money back.
Originally I didn't understand why companies would be willing to sell their mortgage backed securities for 1/3rd of their face value. As you can see they don't actually own the mortgage, they own a position to receive the payment from the mortgage.
This is causing some problems because the people who will lose money if homeowner stop paying are not they ones who actually hold the deed. In at least once instance, courts have ruled that the banks who purchased the mortgage backed securities can't foreclose because they aren't actually the owners of the property. So there are people living in homes that they have simply stopped paying the mortgage on and it doesn't look like they will get kicked out any time soon.
For people (like me) who would be interested in investing in real estate if the prices drop significantly, it doesn't look like things have hit bottom. The housing market is going to stay relatively high until a bunch of foreclosures start flooding the market. This is already happening in Detroit and some other cities, but most home prices are still within 10% of where they have been in the last 3 or 4 years.
So did I explain it correctly? Are there any major points to the way these investments were structured that I misunderstood?