From a reader:
I'll be moving in a few months and with that comes a new desk and new office space. Do you or any of your readers have any suggestions on what to look at? I'm looking for a smaller desk as all I've got is a MacBook Pro and some trays for inboxes. I'll also need a good filing cabinet to work the GTD system, any recommendations?

I figured I'd shoot this in as this may be helpful to not only myself, but to others looking to "Get Organized!" (Don't we all try haha).

Also, side note – how about some more video tutorials!

Take care,

Neil
Let me describe what I use.  It may not be the best setup for everyone and it is definitely skewed toward equipment that breaks down to be easy to move. My desk and storage area consists of:
Two large glass tables on metal frames in an L shape.  While these don't offer any storage (other than a keyboard drawer), they break down to nearly flat which makes them extremely easy to move in a crowded moving trailer.  I purchased these around 8 years ago from Organized Living
One file cabinet with two drawers under one of the desks. This is a $20 file cabinet from Wal-mart.  I use the top drawer for supplies (extra folders, label maker, envelopes, etc.) and the bottom for hanging files.  I use to have a 3 drawer version that lasted me several years, but I gave it away when I moved.  This one doesn't seem as sturdy because the file drawers are starting to bend and they don't slide as well any more.  I'm looking to replace this.
A chest of 8 drawers behind my desk. This holds things like: extra chargers for computers and phones, shipping supplies, extra pens, extra usb and ethernet cables, etc.  This makes up for the fact that my desk doesn't have drawers.
A bookshelf in my office.  This bookshelf folds flat and is made out of actual wood instead of compressed sawdust.  The fact it folds up makes it easy to move–which is why I still have it. My less essential books are in storage, so this holds items I use regularly like: reference books, software packages, stationary, and a bottle of windex and paper towels (hidden behind some books).
A bookshelf that holds small storage containers in a closet.
We've moved around a lot in the last few years, so my setup is fairly spartan.  I still have a lot of stuff in storage that I rarely need to access.  In some ways this has been an advantage because I'm not cluttering up my work area with 10 years worth of stuff that I might need someday.
Here is a photograph of my current desk setup: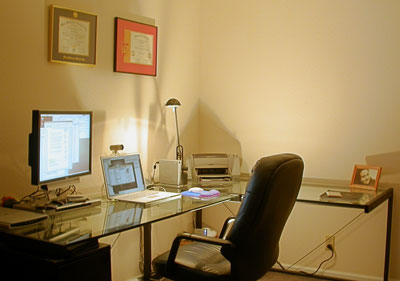 One thing I've learned is that having extra work surface isn't always a good thing.  It tends to encourage you to store stuff on your desk instead of putting things away.  I've considered removing one of my desks, but I'm waiting until I get my new computer system setup to see if this will work or not.  Also as my daughter is becoming more mobile, I've moved more equipment off the floor and onto the desk where it is out of her reach if she happens to come into the office.  It may look funny to have a large shredder on top of my desk, but it isn't worth the risk of having it anywhere she can get to it.
Up until recently I would have suggested an inexpensive file cabinet from Wal-mart.  However my current one is bending and the handles keep falling off–and it is only 6 months old.  Personally what I would like is a single drawer for files with two pencil drawers on top.  I had one of these at a previous job an it worked very well.  Unfortunately while I was on my last trip, the local office supply store had and auction and shutdown.  I haven't had a chance to go to a larger city and really look around to see what is available.
One thing to make sure you look for is built in rails for hanging files.  If they don't have this, you'll have to purchase a metal frame to go in the drawer.  You can make this work, but it isn't very convenient at all.
As far as a desk goes, if I wasn't planning on moving and had a lot of money to spend, I would probably go with a large wooden desk with plenty of storage space.  My grandparents have an old roll top desk that use to be in the Kansas capital building.  It is simply amazing, but I don't know if I could fit my monitor in it very easily.
If I was looking for a good desk that I wanted to be able to move and wanted to save money, I think I'd take a hint from Amazon.  I don't know if it is still this way, but in the early days of Amazon all the desks were made out of a door with 4×4 nailed on as legs.  This gave them a great deal of surface area and a total cost of maybe $40 or so.  This was in sharp contrast to the dot-coms that were giving everyone Aeron chairs.
I would probably use a smooth door without any pre-drilled holes laid across two two-drawer file cabinets.  If I could find two nice looking saw horses, I might use those instead of file cabinets if I needed a different height.
Another option is to build your desk into the room.  A desk attached directly to the wall can help you maximize the amount of space in a small room and it doesn't have to be particularly expensive.  One advantage of this route is that you can customize it to really fit your needs instead of relying on something that was built for the lowest common denominator user.
For an office chair, let me say that I've never been impressed with the chairs at Office Max/Office Depot type stores.  I'm not sure why, but they always seem cheap to me.  I finally found an office chair I liked at a small out of the way office supply store.  It is a HON model 2091SR.  The leather is starting to show a little age on some seams after 7 years of use, but I'm still very happy with it.  Now days I believe it runs $250 to $350.
One of the most important things to consider in setting up your office is ergonomics.   You want to make sure you don't set things up in a way that you can hurt yourself.  My current office works pretty well, but I find I usually use the keyboard on my laptop.  While the height works well for preventing wrist strain, it forces me into bad posture with my back.  My plan is to switch from using my laptop keyboard at my desk and start using a bluetooth keyboard on my keyboard tray.
Hopefully that is some useful info.  If you happen to live near an IKEA, I would definately go there and look around.  Even if you don't buy anything, you'll probably get some good ideas about how to make the most efficient use of your space.