With inexpensive digital cameras and ever growing storage capacity, it is easy to create and maintain a very large quantity of pictures.  My personal photo library  starts in 1998 and provides a fairly detailed chronicle of my life for the past 11 years.  In many ways, it is the most accurate diary or journal of my life events over that time period.  If I want to know when we went on a particular trip, I can look up the date in our photo library.  If I want to know who attended a particular event, I can look it up there, as well. I find that occasionally running through all of my pictures helps me remember events that would otherwise be forgotten–particularly in remembering the details.
While photo albums have often served as visual journals in some sense, the quantity of pictures we can take and store is drastically higher than what was possible 20 years ago.  Here are some considerations for maintaining your photos:
Date in Name
One of the best things I've done with our photos is store them with the date in the name.  So PIC_1099.JPG taken on January 23, 2003 becomes 20030123_PIC_1099.JPG.  This means if the pictures ever get changed to a different format or run through some other process that changes the file date, I can still order them in chronological order with ease.
I used to do this with a small Java program, but now I use OS X Automator. Below is a screenshot of the Workflow that lets me do this.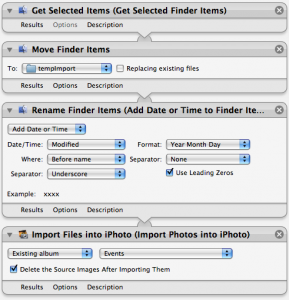 Open Format
You want to make sure your photos are being stored in some type of standard format.  If the program you are using to manage them no longer works, you want to make sure you can still retrieve all of your photos and open them in something else.  I use iPhoto for this because I know I can always pull out the JPEG files if something goes wrong.
I've been considering switching to Aperture, but I don't want to lose the photo library sharing, where my wife can go in and view our library from her computer even though the master files reside on mine.
Backup
Photos in albums generally last a very long time.  Fire is fairly infrequent and is one of the few significant threats to paper documents.  Digital photos can easily disappear by saying yes to the wrong thing when trying to maintain your computer.  I keep a few different backups of our photos.
Online backup to Amazon's S3 service using Jungle Disk. This backup runs every few weeks
Local backup using Time Machine to a hard drive in my office. Runs every few hours.
Image of my hard drive to a portable hard drive. This backup is done 12 to 24 times each year.
DVD backup of all my photos stored in a safety deposit box.  This backup is done once every year or so. (As my files grow I may replace the DVDs with a small portable hard drive.)
Time Machine is usually the only thing I need for restores, but I have the others just in case something destroys my computer and my office at the same time.
Purging Plan
As the number of photos grows, you may need to establish some type of plan to get rid of older photos that you don't want any more.  Even if you have plenty of disk space, you probably don't need 200 pictures of a two-hour minor event.  Some of the photos that you want to keep over the next two years will lose their value to you after that.  One simple way to do this is to rate your photos.  Many photo management programs will let you add stars or a numeric rating to photos.  So a five star photo is something you want to keep for ever.  A one star photo is something you'll keep around for a few months.
If you have 50 photos of your child's birthday party, you might end up with 10 photos of the event that are just great rated as a five.  Twenty photos that are pretty good rated as a four.  Twenty photos of group activities where your child isn't really easy to see that are rated as a three and the remaining photos that are rated as a one or two, where your child isn't even in the picture.  After a few months, the one and two rated photos can probably be deleted.
With a little planning ahead, you can make sure your memories captured on your digital camera will be safe and easy to navigate for the rest of your life and passed on to future generations.