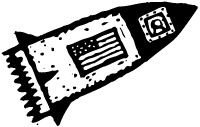 John Kennedy said we were going to go to the moon "Not because it is easy, but because it is hard."  The Apollo 11 mission was a huge success and really brought the nation, and to some extent, the whole world together around a scientific adventure.
Choosing to do something because it is difficult is a great way to grow. If you truly want to extend your capabilities, you have to do things that are hard.  You have to do things where you might fail.  If you only attempt to do the things you've done before, you might have some level of growth but nothing compared to what you are capable of.
The problem comes when people fail.  Most individuals don't know how to handle failure.  It knocks them back several steps and they resolve to never fail again.  Obviously you shouldn't try to fail, but take failure as a sign that you are working on the right types of problems. If you never ever fail, you're probably only doing things that stretch you very little.  Real growth comes from things that stretch you a lot.
Let's look at it from a numerical perspective.  Let's say most of the tasks or projects you undertake are a 3 on a 10 point scale.  You consistently perform on level 3 projects and lower.  Occasionally, you handle one that is a level 4.  Over time you may become more comfortable and get to the point where you can handle a 4 in the same way you previously handled a 3.  However, lets say you successfully complete a level 8 task.  Suddenly, your comfort level jumps forward. Now you are comfortable working on level 6 tasks.
For example, let's say you are looking for a new job.  By choosing the most challenging job possible, you will definitely put your self under some additional stress for the first few months.  However as long as you are working hard your skills will expand to meet the need.  After a period of time, what was difficult will become routine.  If you take an easier job, you'll acquire some new skills, but you won't really push yourself forward.  Now lets say you take a new job every 2 to 4 years. If you start off working at McDonalds, you could easily become an executive at a medium sized company in 12 to 15 years by taking the most difficult job you possibly can.  If you take the easiest job possible, maybe you'll work your way up to being a manager of another fast food location or something similar.
Growing by small steps isn't a bad thing, but we only have so much time in life.  Unless you are happy with only incremental improvements, you have to be willing to do things that are hard and where you think you might fail.  That is the only way to really leap forward.
Originally published March 28, 2006.