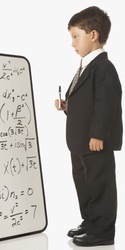 I've been following the news about the sub-prime markets and foreclosures in the US. In a nutshell, here is what has happened. Companies that lend money for house loans had been doing very well, but their customer base was shrinking–there are only so many homes you can sell to one person.To compensate  they started trying to sell to people who wouldn't normally qualify for a home loan. For example, some companies would get a list of people who had recently had their cars repossessed and use that as a list of potential clients. (I've written a more detailed explanation of the subprime mess in a previous post.)
This is kind of what Citibank did in the 90s by offering credit cards to people whose application would normally be rejected.  Citibank's model involved looking more closely at this group.  They even looked at things like whether or not an application was filled out in pen or pencil. (Applicants are more likely to not pay if they use a pencil.)
Unlike Citibank, these lenders were not applying careful statistical models to determine if someone could/would make their payments.  However, they were using statistical models to determine the interest rate (more on that later). The logic was more on the lines of: "Houses always go up in value, so who cares if they can make the payments.  They can always just sell their house and pay us back."  Of course this only works if their is an ever increasing demand for houses.  The lenders created this demand by making it easier and easier to get loans.
Interest rates reflect the probability that a person will pay off the loan. If you have a high interest rate, it means the bank thinks you are risky. If you have a very low interest rate, it means the bank feels safe loaning money to you. Since the clients that lending companies were targeting were high risk, they had a high interest rate.  The lending companies got around this by offering a 2 or 3 year "introductory" interest rate. After this period, the rate shot up to properly reflect the risk of the loan.
As large numbers of these types of loans switched to the higher interest rates, people found they could no longer afford to make payments and started defaulting on their loans.
What I have found interesting about this whole thing is the fact that everyone is blaming the lenders. In some cases I'm sure they didn't act ethically. In other cases there may have been outright fraud. However, in most cases they simply sold people a product that they couldn't afford.
The math required to work out your monthly payment isn't exactly rocket science. I can't imagine buying a house without making sure I understood exactly how much I would need to pay for insurance, taxes, utilities, and interest. When I closed on our first house, it took awhile because I wanted to read and understand every page I was signing–much to the annoyance of the title office woman. (The title office later sent us an apology for the way she was acting.)
I hear a lot of people talking about how the sub-prime market targeted poor people. To me, this seems incorrect. The term "poor" is a bad way to categorize people who are struggling from high interest mortgages.  It appears to be designed to illicit sympathy more than anything else. "Financially unwise" or "math impaired" are probably better labels. Someone who earns $10,000 per year and buys a home where they can afford to make the payments may be poor, but they are wise financially compared to someone who makes $100,000 per year and takes on a loan for $10,000 per month.
If you dig deep enough, I bet you'd find that, for this group, the common thread has very little to do with income.  It is very related to being unwilling (or unable) to do basic math.