I remember when I first started looking at computer catalogs back in the late 80s.  There was a 540MB hard drive for sale that I found fascinating.  It seemed like a limitless amount of storage and I remember dreaming about what type of huge business you could run with that amount of storage space. Of course now that is even less data that can fit on a single CD rom and many programs come on multiple DVDs now days.
No matter how big of hard drive you have, you'll eventually be able to fill it. There are two ways to clean out unnecessary information. One is to go through, folder by folder, and clean out what you don't need. This is the "correct" way to do things. However, in the digital world, not all files are created equal. You can easily spend an hour deleting hundreds of files, only to discover that you've freed 50 MB of space off a 200 GB hard drive.
The most productive way to clean your hard drive is to figure out which files are taking up the most space and start there. Unfortunately, most operating systems don't make it very easy to figure out where your big files are. If you use something that is based on Unix (like OS X), you can use the "du" command to figure it out, but that isn't very user friendly if you want to deal with things through a GUI.
There are two solutions I've found. One is for Windows and the other is for OS X. Both have free and paid versions.
Treesize Free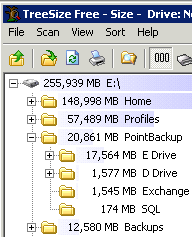 This is the windows program. The free version gives you an easy way to see the size of your folders and drill down to see the size of subfolders and files. One thing I really liked about it is the way it shows a graph of each file or directory in the tree view. I was also impressed with how fast it worked. Just the other day, one of my client's hard drives was filling up to the point that they could no longer back things up. I was able to measure about 200 GBs of files in just a few minutes and point them to 3 users who were using over 50% of the drive space.
The paid version gives you a bunch of extra features. It lets you export information in XML, create graphs, and archive old files. It will also let you search for files that are duplicates of each other. It includes a shell extension that will give you access directly from Windows.
You can download Treesize from Jam Software here.
OmniDiskSweeper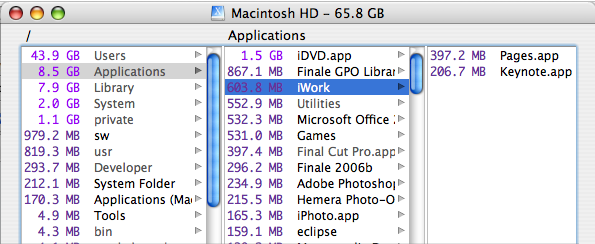 This is the program that I use for OS X. It works basically the same way, but it doesn't seem to be quite as fast as Treesize. There used a free version and a pay version that would let you delete folders and files directly from the app.  However, Omnigroup now makes the paid application available for free.
You can download OmniDiskSweeper from Omni Group here.