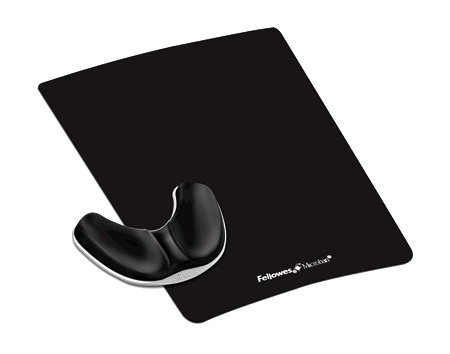 Fellowes, a company known for paper shredders, is promoting some of their ergonomic non-shredding products.  Their approach was interesting.  I was contacted and asked if 1. I'd like to try out some of their items, 2. if I'd like some free stuff to give away, and 3. if I'd be interested in interviewing their certified ergonomic consultant.
I was particularly intrigued with the chance to ask a professional ergonomist some questions. This post contains Keven Butler's answers. Kevin  is a Board Certified Professional Ergonomist and works as a consultant for Fellowes, Inc.
Make sure read through to the bottom for our first ergonomic giveaway courtesy of Fellowes.
1.    What is the most common ergonomic issue you see in the way people setup their office?
Although many companies are beginning to provide essential ergonomic equipment, such as keyboard trays or document holders, these tools are often not used properly. An investment needs to be made to properly train employees on how to best use these products. For example, not only is a keyboard tray a space saver on the desk, it helps to keep the shoulders and elbows in a relaxed and neutral position throughout the day, preventing painful injuries. For more tips to improve the workspace, visit www.fellowes.com/ergonomics.
2.    What advice would you give to someone who travels a lot with a laptop and doesn't have a fixed office environment?
Road warriors that spend hours in front of a laptop need to pay close attention to their daily habits and make corrections as necessary to ensure their bodies stay safe. Awkward positions and movements can cause dangerous and painful conditions over time, such as carpal tunnel syndrome and tendonitis.
While typing on the laptop, workers should keep their wrists straight and in a neutral position and take mini breaks every 20 minutes or so to give the eyes a rest.  In addition, using external input devices, such as a keyboard or mouse, help to keep the body aligned. When using a laptop in a hotel room or satellite office, implementing a laptop workstation, such as the product in the Fellowes Professional Series, also helps to keep the body comfortable.
3.    Is there anything special you should do when working with a large monitor?
Although large monitors make it difficult to maintain proper positioning for eye safety, the screen should be approximately an arm's length away from the body and the top of the monitor should be at or slightly below eye level.
4.    What advice do you have for people who spend a lot of time using PDA's, cell phones or Blackberries?
The increased popularity of Blackberries and smart phones has brought a heightened concern with ergonomic ailments. My recommendation is to limit device use to answer essential, quick emails and reserve longer responses for when one is in front of a computer.
5.    What type of office chair do you use personally?
As a Certified Ergonomist, I feel that I have a responsibility to try a number of different chairs and I rotate my office chair often.   However, the proper alignment of the body is more important than the type of the chair used.  Thighs should be parallel to the floor, shoulders should be relaxed and in a neutral position and elbows should be even to keyboard height.  The use of a foot rocker or back support, such as the products offered in the Fellowes Professional Series, can help to ensure the body remains aligned throughout the day.  The entire product line can be found on Staples.com.
While I was disappointed I wasn't able to find out what type of chair Kevin uses, his advice has already made me much more comfortable at my desk.  In particular I've found it makes a big difference with my large monitor if I can try to keep the top of the screen below eye level.
And now the giveaway…

We have a Fellowes back support that attaches to a normal office chair and helps reduce back strain AND a mousepad/palm support package.  The winner of this giveaway gets to choose one of those two items.  I have been using one of their palm supports for a few weeks now and it seems to make a big difference for my wrists.
To enter the contest you just have to reply with a comment about your ergonomic woes or ergonomic solutions.  So leave a comment telling about what seems to work or what doesn't seem to work for you.  This is your chance to complain or praise your employer's office equipment and share any tips for ways you've made things work a bit better for you.
We will randomly choose a winner in the near future so take a few minutes to enter.  Watch for several more giveaways over the next few weeks.