I subscribe to a number of magazines and newspapers.  Here are some of the strategies I use to get the most out of them while keeping the time commitment to a reasonable level.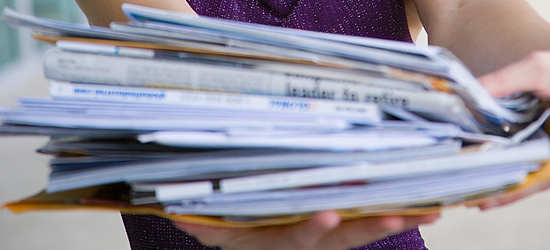 Skim – I'm not looking to fully read every article.  Much of the time, the first few paragraphs and a quick glance over any charts will tell me what I need to know.
TOC – The table of contents is another useful item for skimming.  I usually prefer to skim the actual articles as well, but the TOC gives you a good feel for what might be interesting.
Cut – I have a handy little paper cutter that slides down the page right next to the bound edge.  I cut out any articles that look like they might be worth more than a skim.
Mail – One of the reasons I subscribe to magazines is help me in my networking.  I'm constantly on the lookout for articles that will appeal to people in my network.  When I find one, I'll cut it out, and send it to them with a note.
Go Bankrupt – If my reading stack gets high, I get rid of some magazines without reading them. For some, this means keeping the ones that look the most interesting.  For financial information and news, I usually throw out the oldest ones.
Scan – If there is an article that looks like something I might want later, I'll put it in the file for my assistant to scan.  Alternatively, I may grab a copy off the magazine's website and print it directly to a PDF so it is fully searchable without any OCR errors.
So, how do you use magazines?  If you have any tips, please share them in the comments.