If you have a lot of computer folders that need the same organizational structure you might consider creating a template folder.  For example I have a standard layout I use for the folder to keep track of client information. This includes folders for billing information, contracts, notes, etc.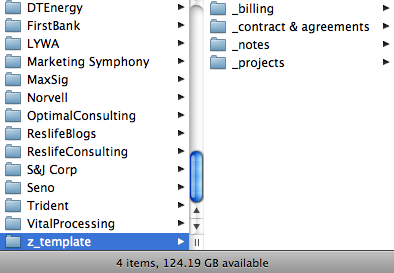 I created a folder in my Clients folder called z_template.  This makes it stay at the bottom of the list.  In that folder I setup my layout.  I usually name my folders with an underscore beneath them so all of my standard files stay at the top–regardless of what else ends up in the folder.
When I start a folder for a new client, I simply copy everything from my template into their folder and on my way to a well organized business relationship.
You can make the structure as deep as you need.  It is also helpful to pre-create common files.  For example, I usually have a text document that I use as a scratch pad for any access information.  So if a client gives me access to their intranet, the URL would go in this file.  If the file is already there, I'm much more likely to use it than if I have to create it.