I really enjoyed Never Eat Alone, so I was excited to get a review copy of Ferrazzi's new book, Who's Got Your Back. It is a good book and I'd recommend it.  If you can only read one of Ferrazzi's books, I'd go for Never Eat Alone.  However, I listened to an audio recording of Never Eat Alone and read a physical book of Who's Got Your Back, so I may have missed out on some of Who's Got Your Back by not hearing it read by Keith Ferrazzi, himself.
Never Eat Alone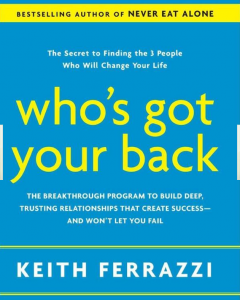 talks about building a network of people that you can help and who can help you.  One of the constant criticisms of anyone who is seriously working on networking with people is that these types of relationships seem superficial and don't always go very deep.  You can't build incredibly strong relationships with 500 people–there just isn't enough time.
Who's Got Your Back looks at building those deeper relationships with people who are going to look out for you and your interests.  These relationships go well beyond the acquaintance level that the previous book focuses on.  These are the types of relationships where people can tell you hard truths that you probably couldn't take from someone at the acquaintance level.
Who's Got Your Back
In this section, Ferrazzi lays out a lot of definition of the type of relationships he is going to be discussing.  He gives several examples from his personal experience of people who helped steer him away from bad habits or mistakes by giving "tough love" type advice.
This type of deep relationship is a very good complement to the types of relationships mentioned in Never Eat Alone. Together, the two approaches offer a very balanced approach of maximizing your ability to network while still retaining a circle of very close friends/advisers.
The Four Mindsets
This section looks at the mindsets that need to be there to build a deep relationship.  They are:
Generosity
Vulnerability
Candor
Accountability
Building Your Dream Team
This section of the book covers some of the practical matters on how to build a team of advisers whom you can trust and will feel comfortable giving you candid feedback and advice.  It also looks at how to approach people about being on your team and lots of examples of how others have implemented these types of groups.
Make It Your Life
This section looks at some of the ways to integrate these types of relationships into your life.  It also talks about the "Greenlight Method" using a meeting methodology from Ferrazzi's consulting company.
Overall, it was a decent book, but I'd still recommend reading it along with Never Eat Alone. Together, the two books give very balanced approach to maintaining good relationships. Who's Got Your Back,by itself, isn't quite as strong of a book as Never Eat Alone, but still well worth reading.