Acrobat is capable of doing two types of signatures.  Technically the best way is using a digital signature.  Not only can the signature show that you signed it, but it can also prove that the document wasn't changed after you signed it.  If you deal with a lot of people who use digital signatures, this is a great way to go.
Personally when I sign something it is usually to fax or mail.  While I like the digital signature idea I just don't interact with enough people who could actually use it.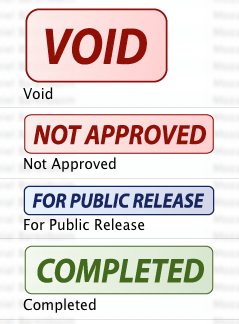 Originally I was signing documents in Acrobat by creating my own digital signature and then attaching an image to the signature.  Acrobat will use the image anywhere you place the digital signature so things look normal when you print it.
While this works, it can take a bit of effort to setup.  You have to generate a public and private key and then import them into Acrobat, etc.  Also when you sign something Acrobat adds an additional graphic showing that it is a digital signature.  This doesn't show up when you print it, but it can be confusing for someone who gets the PDF.
Today I discovered another feature in Acrobat called "stamps". This is a way to stamp parts of the document with an image like "Confidential", "Past Due",  "Top Secret", etc.  You simply select the stamp and then you can go through your document just like you would with a rubber stamp.
It turns out you can import an image file and use it as a stamp as well.  If you follow the instructions from our post about how to create a scanned signature, you'll find it imports nicely.  The transparent background lets you sign on a line without covering it up.
Once you apply the stamp you can use the tool to resize it or move it around for better placement.
To import your signature as a stamp go to Tools > Commenting > Stamps > Create Custom Stamps.
I am using Acrobat 7 Standard.  If you are using a different version there is probably a slightly different process.