Turkeys don't like skunks.  Skunks like turkeys, but mainly because they can eat the baby chicks.  So it isn't surprising that when a skunk comes around, a mother turkey will attack it to keep it away from her babies.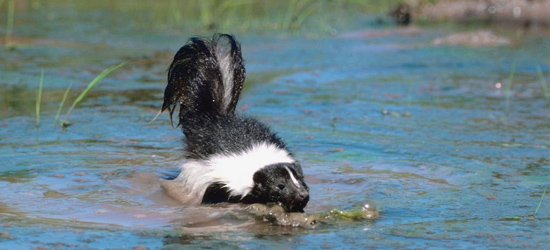 Here is another fact about turkey mothers.  They respond to their chicks saying "cheep cheep".  If the chick says "cheep cheep" the mother will care for it.  No "cheep cheep" and the mother will ignore it and sometimes even kill it.  So if you are a baby chick, the "cheep cheep" is very important.
In a slightly bizarre experiment, scientists rigged a stuffed skunk and sent it toward a mother turkey.  Ask expected, the turkey attacked the stuffed skunk with her claws (do you call them talons on a turkey?) and wings.  So far, so good.  Next they tried the experiment again, but they put an audio device in the skunk that would go "cheep cheep".  The results were amazing.  This time the turkey didn't attack the skunk.  In fact she gathered it under her with the rest of her chicks.  However, if it stopped saying "cheep cheep" she would attack it again.
Obviously, this information would be a major advancement for skunks and detriment for turkeys throughout the world, so up until this point, scientists have tried to keep their research a secret.  A few chirping skunks could decimate the next generation of turkeys and create an imbalance that undermines Thanksgiving while shifting the global odor index.
The funny thing is, humans don't behave all that differently than the turkey.  While we may think the turkey is silly just to ignore all the other data and just focus on the "cheep cheep" sound, we tend to reduce many of our decisions down to just a few, or even a single, data point.
For example, most people's primary means of determining the value of jewelry is the price.  Some jewelers have even found that accidentally raising the price on a group of items caused them to sell much more rapidly because they were perceived as being more valuable.  People do the same thing with clothes.  If you find a $50 shirt marked down to $10, you'll feel like you are getting a better quality shirt than one that is always $10.
Just like the turkey, using price to determine the value of something works well most of the time.  However, if you can watch your own behavior and recognize when you are doing this, it can help protect you and keep you from overvaluing something based on its price alone.
Most of these examples came from Influence: Science and Practice.