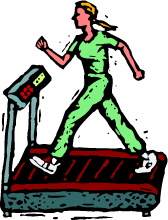 I know very few people who feel they exercise enough. Everyone knows that they should spend more time exercising but very few people do. However if you look at where they put their exercise equipment, it is no wonder they don't exercise. Buying an exercise bike and sticking it in the corner of your basement is going to make it hard for you to want to actually go down and exercise.I think the ideal setup for exercise is to have your exercise equipment tied into your television, so the TV doesn't work unless the exercise equipment is being used. Better yet, if the exercise equipment had a generator on it, so you had to pedal in order to produce the necessary electricity.
You can get many of the same benefits simply by putting your exercise equipment in front of the television. What seems to work well for me is to pick a television series I haven't seen that is out on DVD and promise myself that I'll only watch those videos while I'm exercising. Most television shows are 35 to 45 minutes long (once the commercials have been removed) which can give you a decent workout without eating up your entire day.Of course exercise equipment is only useful if it is actually used, but why not set things up to favor your success.
On a related note, if you are looking for an exercise bike, ski machine, etc. start by checking in the paper, or online classifieds. There are thousands of people out there who have purchased machines, stuck them in their basement where they were never used and are now looking at selling them for cheap just to get them out of the house. My wife found me a very nice NordicTrack for $5 (they usually sell for over $600 new) that I use almost every day.