The next time I check luggage at an airport I'm going to say:
"I am flying to Hartford. Can you please send one bag with me and one bag to Boston?"
When they say, "we can't do that," I will reply, "really? You did it last time…"
Joking aside, here are some tips I've compiled from the time I've spent in airports.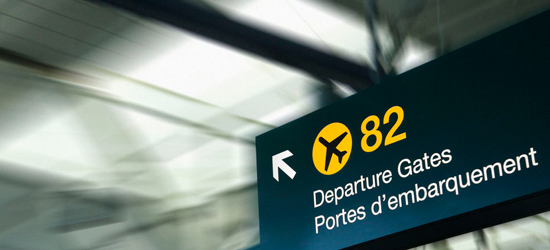 Ship Your Luggage
With the additional fees airlines are charging simply to check a suitcase, shipping your luggage to your destination can be cost effective. Not only do you skip the extra fees, but you can avoid the long lines some airports have waiting for your checked luggage to be x-rayed.
Minimize Metal
Anything you can do to reduce the number of metal objects you have to remove from your clothing in the security check will save you time. If you normally carry change in your pocket, put in your bag. If you wear a belt, use one with a removable buckle so you don't have to remove the entire thing while going through security.
Dress Plain
Pay attention to what you wear. I know they say the screening checks are random, but in my experience, the way I'm dressed influences the likelihood that I will be called aside for additional screening. Strange as it seems, I routinely get additional screening when wearing a Harvard sweatshirt. Maybe this is just a fluke, but I stopped wearing shirts with anything printed on them while traveling.
Carry-On Size
Planes have two places to store carry-on luggage. The first place is above your head. Everyone competes for storage space in the overhead compartment. The second place is under the sea in front of you. If you can avoid putting anything overhead, it saves time and effort because you are no longer competing for the same space as everyone else.
Overhead Luggage
If you do have to store luggage above your head, make sure it is placed between your seat and the front of the aircraft. If you have to go backwards in the plane to get your luggage, you'll be headed in the opposite direction as everyone else when getting off the plane. If you don't need your luggage during the flight, simply placing it in the first available compartment can be a good strategy. This minimizes the amount you have to carry down the crowded aisle and getting on and off the plane.
If you carry on a suitcase that can be turned sideways and still fit in the compartment, you are at an advantage in the luggage space competition.  When the large baggage is placed in the overhead bins, there is often extra space that can only be used by a bag that fits this way.
Getting Bumped
Airlines routinely oversell their seating. If they have 100 seats, they know that at least five or 10 people won't show up. So the airline will sell 105 tickets for a plane that seats 100 people. If everyone shows up, they have a problem. When that happens, the airline will offer travel vouchers in exchange for taking a later flight. These vouchers are often worth $300-$400. Here are some things to think about:
Ask for cash — in some circumstances, the airline may be willing to give you cash instead of a travel voucher. You'll have to ask the person making the offer. If they forcibly bump you, I think you have the right to ask for a cash equivalent of the voucher they offer you–or you can not take it and just sue them.
Don't be afraid to bargain — tell the attendant what you're willing to do and leave it in their hands. If they are offering a $300 voucher, but you are only willing to take a later flight for $400 in cash, tell them. They may or may not be able to accommodate you. However, if no one else is willing to give up their seat, their only option is to kick someone off who is going to be very unhappy about it.
Next flight — make sure you know when the next flight is. If the weather is bad for their other complicated circumstances, you may not be able to make the next flight.
Early Flights
Make sure you know when the airline opens. If you arrive two hours early, you may end up sitting in the lobby, waiting for the ticket counter or security to open.  Just because the airline says to get there two hours early doesn't mean they are going to show up.
Parking
Some hotels offer "park and fly". This is where you stay at a hotel the night before you leave and they let you leave your car in their parking lot. Sometimes this is a free service, sometimes they charge you a small fee for the parking. Depending on the parking rates, it can be cheaper to pay the hotel and use their parking and shuttle than to park at the airport.
If you do park at a hotel, think about where you are leaving your car.  Ideally, you want to leave it somewhere that there is line of sight from the front desk or some other public area.  Make sure you don't leave anything valuable sitting out.  Parking as the last car in a row can be advantageous because you can park clear over to the side that won't have another car–which can help keep someone from bumping your car with their door.
What are your best travel tips for dealing with airports and planes?