When it comes to organizing your stuff, most people deal with every item and ask "Where do I put this"? This is not the question to ask.  When you go to look for the item you may or may not be able to remember the answer to the question "Where do I put this?"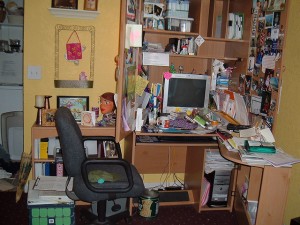 The real question to ask yourself is "Where will I look for this when I need it?"  There seems to be a big separation between the way the brain makes connections when you are trying to store something and when you are trying to retrieve it.
This makes sense because when you ask yourself "Where do I put this?" your brain is going to start thinking in terms of size, available storage space, danger to surrounding objects, etc. It isn't thinking in terms of the context in which the item is needed.
If you organize your stuff by thinking about the context in which you need each item you'll spend far less time looking for things.  This type of approach helps you find simple but innovative solutions that make sense.  For example, if you ask yourself where  you should store your postage stamps, you'll probably put them in a drawer, but if you think about the context in which you'll actually use them, you might decide to keep them in the box with empty envelopes.
By imagining the context in which you will need something in the future,  you can organize your stuff in a way that makes sense and works best for you personally.