A lot of time-management techniques suggest creating some sort of prioritized to-do list. Why? What is so special about having a pre-determined order assigned to the things you need to do? Obviously, picking your kids up from school is a bigger priority than washing your car, but for the things that are nearly equal, what does it matter?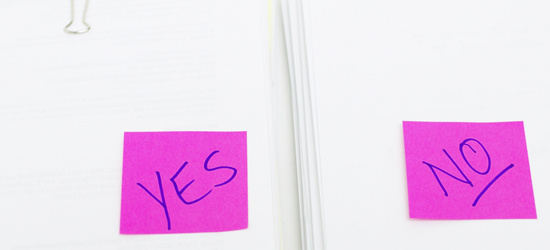 It turns out that there is a very good reason that so many people recommend this. Good time management has an arch enemy. It isn't interruptions or even procrastination. The big foe to good time management is indecision.
Knowing exactly what you need to do next wards off indecision. Even if the order is somewhat arbitrary, there is value in having a plan so you don't have to sit around and try to decide what to do next. The ordered list lets you focus on performing action, not deciding which action to do next.
Deciding what to do is work. It requires effort on your part. Most people underestimate how much work this actually involves. Even if it doesn't take a lot of time, your brain still counts it as doing work. Not having a plan means you double the amount of work you have to perform. You have to choose a task and perform the task itself.
There are a lot of areas where you can be much more efficient by making decisions ahead of time. Here are a few:
Investment decisions – The amount you invest and the way it is allocated isn't something you should have to decide on every paycheck.
Movies you want to rent – Chances are that making a decision from scratch when you are ready to see a movie will result in you watching something you weren't as interested in and skipping over one that you wanted to see, but couldn't think of at the time. At the least you should be picking your movie from a list of ones that you know you already want to see.
Buying gifts – Trying to make a decision on Christmas gifts while you are at the store can be very time consuming. While you can't completely eliminate the decision process at the store, going in with a list of a few options is a whole lot better than just thinking "I'll know it when I see it. "Also, it is far more likely that you'll think of the perfect gift for Aunt Bertha sometime between January and November than in the first part of December.  Capturing that information will determine whether thinking of that perfect gift is actually beneficial to you or if you'll end up sending her a fruitcake again.
You can't make every decision in advance, and even your ordered to-do list is going to see modifications throughout the day. The point is to try to minimize how much time you spend making decisions. If you catch yourself being indecisive, just go ahead and make a decision. In many cases, indecision is more of a threat than picking the wrong task to work on next or choosing the less optimal of two good choices.