When you are focused on a problem, issue or task, it stays in the conscious part of you brain. However, there are some problems that you are unlikely to solve until the problem gets the attention of your unconscious mind. How do you let your unconscious mind take a look at your current enigma?  You have to take a break.
Mentally demanding work requires taking break to stay efficient. Unfortunately we have a cultural viewpoint that encourages people to see taking a break as a weakness. Nothing can be further from the truth. Taking a short period of time away from your main task requires a discipline.  It takes discipline to know when to start and it takes discipline to get back to work once your break has served its purpose.
Not all breaks are equal.  For a break to be beneficial it needs to let your mind and body to something very different for a short period of time.  If you sit and work at a computer all day, one of the worst things you can do is to try to use Facebook or a news website as a break.  It might be a bit of a mental shift, but it isn't actually doing something different.
Here are some attributes of a good break for people who sit at a computer:
It should require you to focus on things at a different distance than what you do at your desk.
Things that raise your heart rate are helpful.
It should use some type of skill like: balance, timing, motor skills, etc
It should be something you can do in 5 to 10 minutes.
Getting some sunlight is good.
The activity should make you happy.
Activities that meet those criteria are going to help give your conscious brain the time off it needs for your unconscious brain to do work.  Here are some activities that work well:
Take a walk
A brisk five to ten minute walk is ideal–particularly if you can do it outside. Walking isn't a particularly mentally intense activity, but it usually offers enough of a diversion to let you at least partially stop thinking about whatever you were working on. Walking will help get your blood flowing which will help you be more alert when you return to your work.
One of the advantages of taking a walk, is that you can do it almost anywhere–even places that may frown on taking a break with some of the other activities.  The trick is to have something you are doing–it could be running down to the mailroom, heading to ask a co-worker a question on a different floor, etc.
Of course getting outside and walking through an area that has grass and trees is even better. There have been some interesting studies that showed people's happiness increases when exposed to nature.
Juggle
Learning to juggle isn't particularly difficult and it is an ideal exercise to take a break.  It requires fine muscle control, timing and can burn a reasonable amount of energy.  Most important it is fun. It is hard to not be happy while juggling.
I had the good fortune of going to a small school that didn't have a gym.  During the winter months we would find things to entertain ourselves on break and one year a good percentage of the school learned how to juggle. Here are a few tips for geting started:
Learn the patterns from Youtube or a juggling book.
Juggling with three balls is not done in a circle. You will be doing a criss-cross pattern that is much easier.
If you use silk handkerchiefs at first, they fall more slowly and give you more time to think.
Bean bags don't roll, so you'll spend less time trying to catch them.
Once you know what you are doing, heavier balls can give you quite a work out.
I use to be able to juggle basketballs and they can really wear you out as well, but aren't very well suited for the office.
Klutz has a good book on how to get started juggling.
Of course the problem with Juggling is that it looks like you are just goofing off. If you don't work in an office where they will understand the importance of taking a break, you might need to reserve this activity for lunch time when the boss doesn't feel like you are on the clock.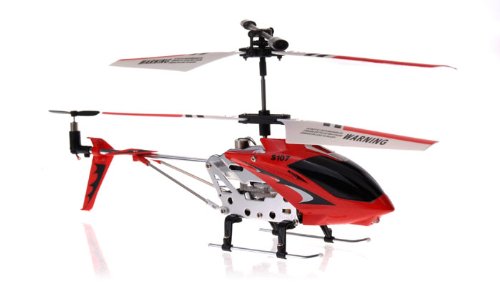 Remote control helicopter
I got a small $30 electric helicopter for Christmas.  I've found it is a great way to take a break.  The battery only lasts 5 to 7 minutes so it cuts you off when it is time to get back to work. The helicopter doesn't burn much energy, but it does use some motor skills and spatial reasoning that I don't really use much in anything else.  In that sense it offers a nice diversion that is very different from my work.
Of course if your boss doesn't want to see you juggling, flying a mini helicopter around the office isn't probably going to look very good.  So maybe this is a better choice for people who work from home.  The fact that it cuts you off after 5 to 7 minutes means you can't forget about the time accidentally, which is another plus for working from home.
Some tips for remote control helicopters:
Get one with a gyroscope so it has a bit more spinning resistance and you can focus on flying rather than just trying to trim it.
The Syma S107 is a good fairly inexpensive model.
Keep the blades away from your monitor and flat panel TV.
Legos
Five minutes playing with legos is a valuable diversion.  It uses your fine muscle coordination and gets you using your spatial reasoning and imagination. Even more important–Legos is nothing like your normal work (unless you are an architect), so you'll be using a different part of your brain and relaxing the part that needs to go into subconscious mode for awhile.
Magnetic poetry
When I was managing a staff of 11 people, I put some magnetic poetry on the side of a file cabinet.  You couldn't spend too long fiddling with the words because you had to stand to be in front of them. It provided a nice mentally challenging diversion for a few minutes.  The ability to see and modify what your co-workers had written helped create a bit of community interaction as well.
Play with kids
Once again this is mainly for people who work from home. Seriously, there are few things as different from sitting at a computer doing mental work than playing tag with a 3 year old or making a fort with some chairs and a blanket.
Exercise
A good workout is going to take more than 5 to 10 minutes, but our goal here is to benefit our brain more than getting into shape.  10 minutes on an elliptical machine or lifting some weights can be very valuable.  While you might not be able to fit a treadmill in your office most people can fit a small set of dumbbells under their desk. There is a danger that spending 10 minutes doing light exercise will keep you from doing a proper workout when you aren't working.  Just remember that the five minutes is more of exercise for your mind than for your body and don't let it keep you from working out the way you should.
I have seen some treadmills with built in desks that allow you to do some types of work while walking.  This could be idea if you need to spend 30 minutes going through your email or reviewing some document. It might even be a good way to do a conference call.  I'm not sure how well it would work if you were needing to actually type something.
Conclusion
Taking a break can help you focus and concentrate and make you more effective.  Making breaks part of your routine and having the discipline to take a break and then come back and focus on work can help you get more done than you could otherwise.