Most of us put a good deal of time into running our households. There are always floors to vacuum, bathrooms to clean, and garbage to take out. Other than hiring a maid, there is no way to do away with all these activities. However, a little planning ahead can drastically reduce how much time you spend on some of these activities. This is a list of simple time- and work-saving ideas for your home.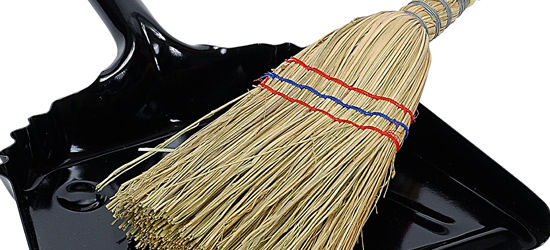 Minimize soap scum
It seems that soap gets everything clean except shower walls. In your bathroom, soap becomes the dirt you are trying to remove. However, some soaps stick more than others. I recently tried an experiment with different types of soap and noticed a very big difference in the amount of soap scum left by various brands of soap. Dove soap seems to be about the best brand for keeping your shower clean. Also, if your bars of soap seem to disappear from having water run over them, move them somewhere else in the shower or switch to a liquid soap in a bottle.
Welcome mats that work
Years ago I worked as a waiter. I noticed that thick industrial mats in the entry seemed to get dirt off shoes much better than anything we used at the farm where I grew up. So, I bought my mom several of these thick rubber mats. The difference was very noticeable. A lot less dirt and mud made it past the entryway and into the house. While the mats were very expensive, they are still in nearly new condition 15 years later, whereas the previous mats needed to be replaced every few years or so.
Take your shoes off
Michigan has a very high concentration of people from Dutch descent. One of their customs is not to wear shoes in the house. I'm not sure how that started. Maybe it's because wooden shoes are so uncomfortable. However, it has a marked effect on the life of carpet. Given the snow and mud that accumulates during the winter, the "no shoes" custom means a lot less time spent cleaning the floors.
Get off mailing lists
Every piece of mail you have to handle costs you time. If you can stop mail at its source, it saves you time and reduces the amount of waste you produce. If you have no intention of ever buying from a catalog, do yourself and the business a favor and ask them to take you off their list.
Throw stuff out (or give it away or recycle it)
Less stuff means less clutter and less clutter means less to pick up. Reducing the amount of stuff you have can make a big difference in how long it takes you to clean up. When you have less stuff and better storage for the stuff you still have, your house won't get as disorganized because it is easier to keep everything put up and away.
I'm not suggesting that you throw out all of your furniture and sit on the floor, but do you really need 5 balls for your cat or dog? How many ink pens do you need to keep in your house? How much time would you need to spend ironing if your closet wasn't stuffed full of clothes that you never wear?