Being productive shouldn't be about just spending more time working. Productivity involves accomplishing more for each minute of work. Let's say you can do 100 units of work in 8 hours, so to get more done you work for 16 hours and accomplish 160 units of work. Have you become more productive? Not really. Imagine that you were being paid $100 per hour. So for 8 hours, you were paid $800 for 100 units of work or $8 per unit. At 16 hours, you were paid $1600 for 160 units of work or $10 per unit. Someone paying you on the outside would quickly notice that your productivity lessened because it cost them more money per unit of work accomplished. However, since most of us don't pay ourselves an hourly wage, it can be easy to overlook the true return on investment from our time. If you focus just on how much you accomplish without any consideration for how long it takes, you are likely to invest your time in sub-optimal ways.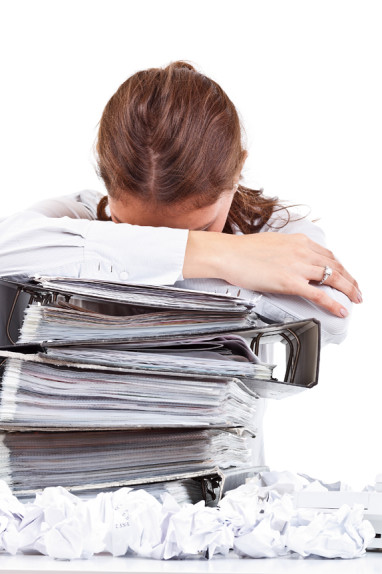 Worse still, some people have no idea how much they are actually accomplishing and instead focus on how much time they work instead of what they got done. That may sound silly, but most everyone does this in one way or another. Time spent on an activity does not always correspond with the amount of productive work accomplished. The man who tries to cultivate a garden with a kitchen fork will invest a great deal of time, but will accomplish much less than the man with a shovel, who will accomplish much less than the man with a gas-powered tiller.
Tools can make a big difference, but what is your tool? Regardless of your line of work, a sharp, clear mind is probably one of the most important things you have. The difference between trying to do mental work when you are fully rested and when you are tired can sometimes be just as great as the difference between the gas powered-tiller and a shovel.
In addition to having a dull mind, sleep deprivation leads to other productivity killers such as getting sick. I've heard some doctors estimate that as many as 30% of the ailments they see would be cured with proper sleep.
If you want to operate at peak efficiency, you have to make the mental shift from thinking in terms of how much time you put in to thinking in terms of how much work you accomplish. If you are focusing on work accomplished, then anything you can do to invest in getting more done in a shorter period of time becomes very important and proper sleep is probably going to be at the top of the list.
If you go back to the original example, you might be thinking, "but even getting 160 units of work done is more than if you had spent the additional 8 hours sleeping." This may be true, but keep in mind that just because you can make a short-term gain by sacrificing sleep for a few days doesn't mean it isn't going to catch up with you. In fact, if you are exhausted, you may make mistakes that result in negative productivity. If you do work that you have to undo and redo while you are tired, it actually costs you rather than benefits you.
So how much sleep do you need? That depends on you. There is a great deal of variance in the amount of sleep each person needs. 8 hours a night is a good starting point, but your needs may be significantly higher than that.
Some studies have shown that within reason, performance increases with additional sleep. This doesn't mean that you can try to sleep for 100 hours straight to boost your performance, but it does mean that if you can go to bed a few hours earlier the day before an important project or event, it will probably give you an additional edge.
So as a general rule, if you want to get more out of an hour of work, invest additional time in sleep.