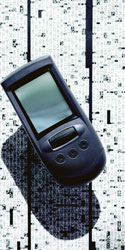 Many people believe that having a personal digital assistant like an iPhone/IPod Touch, Palm Pilot or Windows Mobile device greatly increases their productivity–regardless of whether or not it is true. These devices can be great, but they don't help everyone. It is important to consider the cost of technology, not just in terms of money, but in terms of time. I've seen people spend hours and hours trying to get their calendar synchronized when their pocket calendar did the job much better for a fraction of the cost. This article should help give you some things to think about when it comes to deciding if a PDA would be beneficial to you. To start off with, lets look at some reasons you might benefit from a PDA:
Easy access to calendar.
Easy access to contacts.
Mobile email (in some cases)
Notes and other databases
From 2001 to 2004 I tried a number of devices and finally gave up. I just couldn't find something that would work well for me. Once I started syncing my contacts and calendar with my phone, my use for a PDA dropped and I finally gave mine away and just stuck with my cell phone.
Here are some of the downsides I found in trying to use a PDA:
Steep learning curve
A lot of devices require a decent amount of time to learn. This is particularly true of some of the ways you have to enter data. Some devices expect you to learn a special alphabet.
Extra bulk to carry around
If you have a cellphone, wallet or purse, keys, and a PDA it can be a bit much to carry around everywhere with you. When are are traveling, the extra charger, and sync cables or cradle can add a lot of extra stuff to your baggage.
Expense
While there are a number of inexpensive devices, it is common to spend $400 or more for a well connected device.
May be slower than paper based alternatives
This is something many people overlook. The speed of checking or modifying your calendar using a paper based planner is very difficult to beat with a digital device. You may save time by keeping multiple calendars synchronized, but depending on your workflow, there may be very little benefit in speed.
Durability
Having managed an IT department, I'm very aware of how often these devices are broken or dropped in water. A paper-based system offers a degree of durability that just can't be matched with electronics. (I once had a conversation with the CFO about how expensive it was becoming to replace broken PDAs and the need to have some type of policy in place. The next day I chanced by him right as he accidentally dropped his Palm Pilot onto a tile floor. He sheepishly mumbled something about "needing that policy".)
Around 2006, I got my first Blackberry and found that it gave me all the parts I wanted in a PDA in the same device as my phone. I tried out several different models by buying them off ebay or from friends and eventually ended up on the 8830 from Sprint. The dimensions of the device give it a physical volume comparable to other phones and the world wide connectivity and battery life is pretty much impossible to beat in other products.
Here is a list of the features I've found that are the most important to me:
Mobile email
The ability to get pushed emails to the device wherever I am is vital. Even though I usually have my laptop with me, the ability to quickly check messages while running to the store allows me to stay in contact with my clients. My ability to respond quickly helps encourage people to use email for communication.
Modem data service
My Blackberry allows me to start a Bluetooth connection from my computer and use the Blackberry as a modem. The speed of this connection is surprisingly good–comparable (and sometimes faster) to a basic cable or DSL connection. With a tethered connection and a good signal, I can get speeds comparable to a mid tier DSL plan.
Full keyboard
One of the biggest problems I've had with other devices is trying to use their input methods. The stylus input is just too difficult and I found it extremely frustrating. When you spend 30% of data entry time just trying to correct what you wrote, it isn't efficient. I have played around with the iPhone interface, and so far, I prefer the Blackberry keyboard because it is much faster and more accurate.
Mobile web
For a few applications, the mobile web browser is a real benefit. This is particularly true of Google's feed reader since it lets me read and mark feeds during the little spaces of unexpected downtime.
Audio support
When someone leaves me a message on one of my telephone numbers, it is sent to me in an email. With the 8830 I can listen to these messages while I'm away from my computer.
There are a bunch of other features, but these are the five that I have found to be the most important. Notice that the traditional uses of a PDA (calendar and contacts) aren't on the list. While I do use these features, they can be accomplished just as well (for me) with paper, so it would be difficult to justify the device based on those capabilities.