Most people have a family member or a friend that they go to for technical advice. However, when someone asks a question that is difficult to answer without being present in the same room, it can become very difficult to get the problem resolved. However, there are several solutions for making this process easier. Remote Control software has made a huge difference in how technical support is conducted. Technicians can now do many of the same things that once would have required them to be in the same location as the client. In this list is a collection of remote control software that could make your life easier:
Copilot is geared for both company and personal use. It's simple enough for family members to use to help each other, and competent enough for larger-scale use. Copilot offers a 2 minute free trial, but then the "helper" must purchase either a Day Pass ($5) or a Subscription (Pay As You Go, Unlimited Basic or Unlimited Premium).
The software runs on and controls Windows (must be 2000 or later) and Mac OSX (10.3.9 or later).
CrossLoop is a free program designed minimize the hassle for both the helper and the person in need of assistance. The actual screen-sharing product is free, however CrossLoop does offer other services, such as wireless set-up and virus removal, that the user is charged for.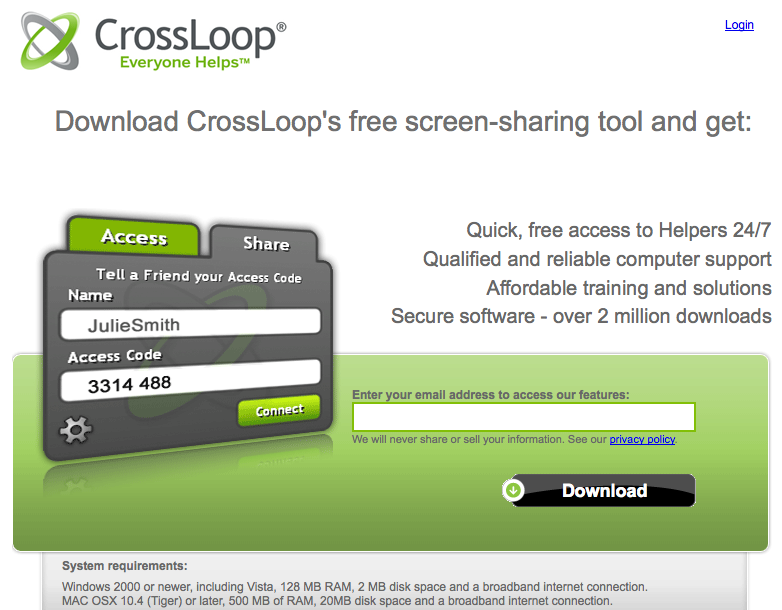 The download and connection process seems to be quite seamless and decidedly un-confusing.
Gitso has a slightly less designed user interface, but it is still quite user-friendly, and free, to boot.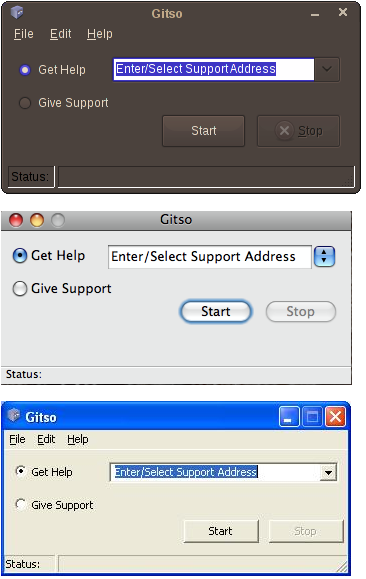 Gitso is cross-platform compatible and runs on Ubuntu, Mac OSX 10.5 (Snow Leopard support is "a bit wobbly") and Windows (XP or later). The best thing about Gitso is that it is able to work on most platforms, as can be seen in the screenshot, above.
LogMeIn supports both the Windows and Mac OSX platforms. The program offers features such as these:
Copy and paste between computers
No need for firewall, router or proxy configuration
No need for firewall, router or proxy configuration
etc.

The user interface seems to be fairly streamlined. However, to find the "free" service download, you must search through the menus at the top of the home page.
Like the previous desktop sharing programs, Mikogo is cross-platform compatible. It also is free, and allows the "helper" to screen-share with up to 10 participants, simultaneously. Mikogo would be especially good for business use because it allows one person to interact with so many others, all at once. This would allow for very productive use of a tech support session if you had quite a few people that needed the same kind of instruction.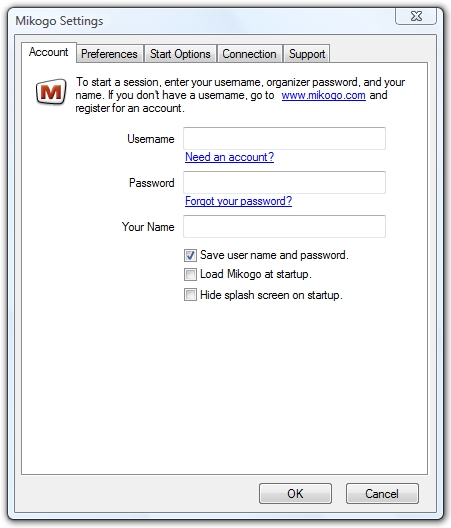 NTR Connect is another program that runs on both the Mac and Windows platforms. Upon downloading the software, it will automatically start a 30-day trial of NTR Connect Pro, then will revert to the free version, which offers basic connectivity services. Most reviews say that the software works seamlessly and is quite easy to use. NTR Connect uses standard security technology and is meant for either business or personal use.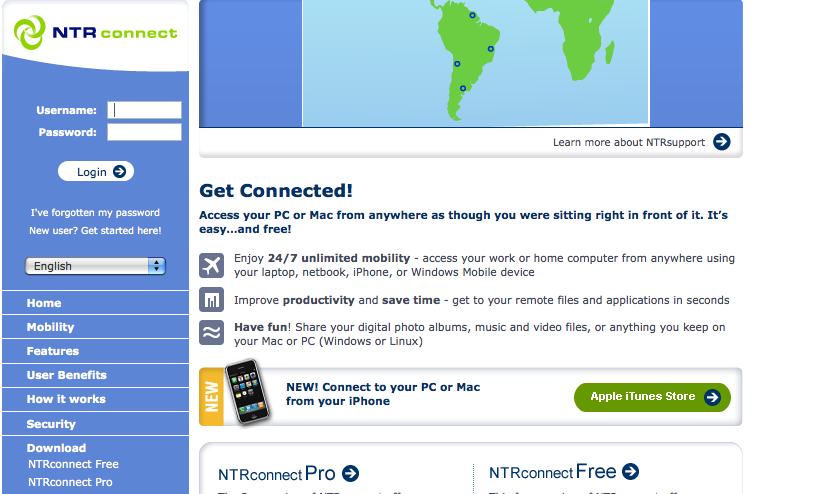 ShowMyPC is another free collaborative program that works on Windows (XP, Vista, 7 and 2000), Mac OSX and Linux. However, potential users should note that the service for Mac has less features than the Windows version, and the Linux service is "View Only." This product is primarily suited to those connecting from PC to PC, though the Mac and Linux support does allow basic screen sharing capabilities.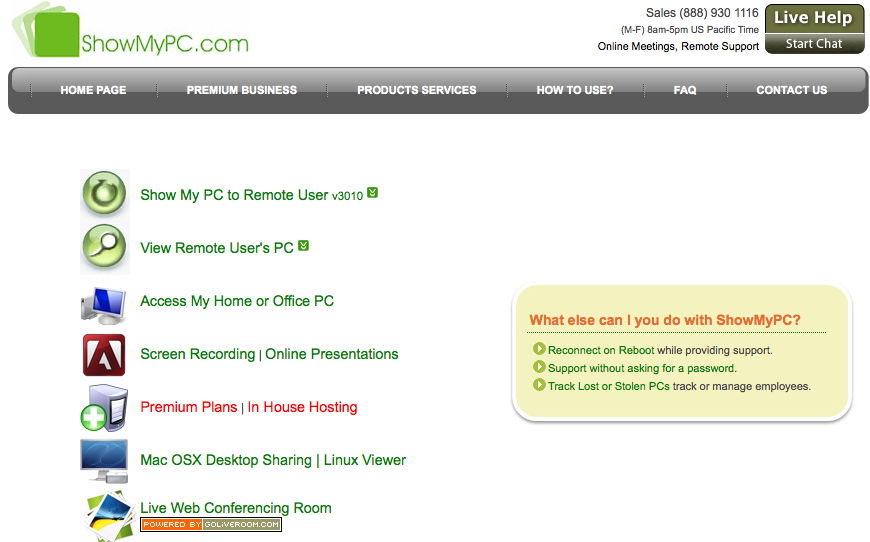 TeamViewer is both Windows and Mac OSX compatible, and according to CNET's Seth Rosenblatt, "TeamViewer is an excellent screen-sharing and file-transfer app that can be used to facilitate business collaborations as well as helping distraught relatives diagnose and cure computer problems."
The software, as with most in this list, will work behind firewalls automatically, ensuring that all client's computers stay protected from potential attack, while still letting technical support take place.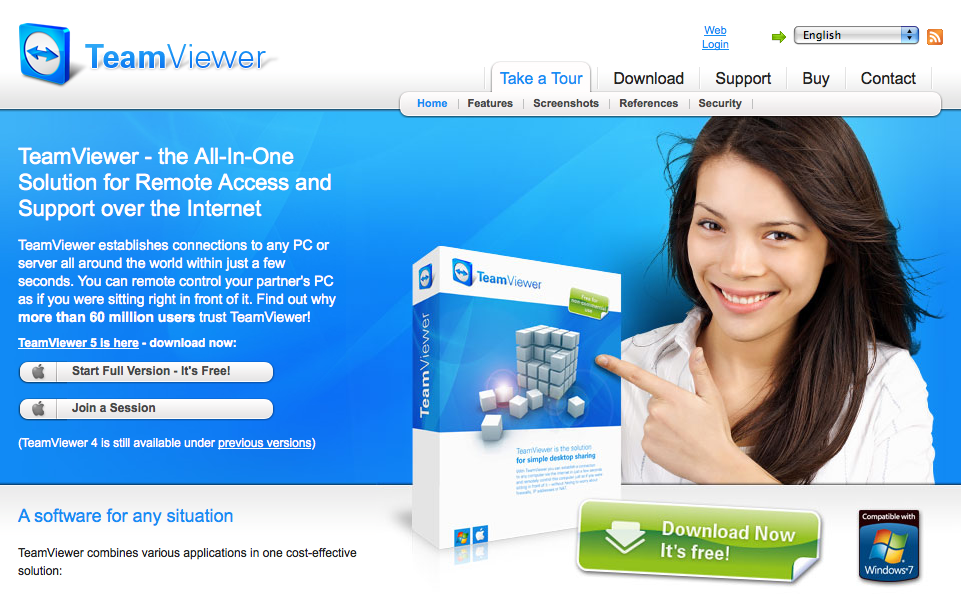 uVNC is a reliable and solid remote connection service. It is fairly no-frills, though, and requires a bit of additional setup in comparison with the other products in this list. For the reasonably tech-savvy person, this is fine, but uVNC does not automatically route itself around firewalls and the application does not directly provide encryption of the communication between users. uVNC can only be hosted on Windows, but the application can control any computer remotely through a web browser.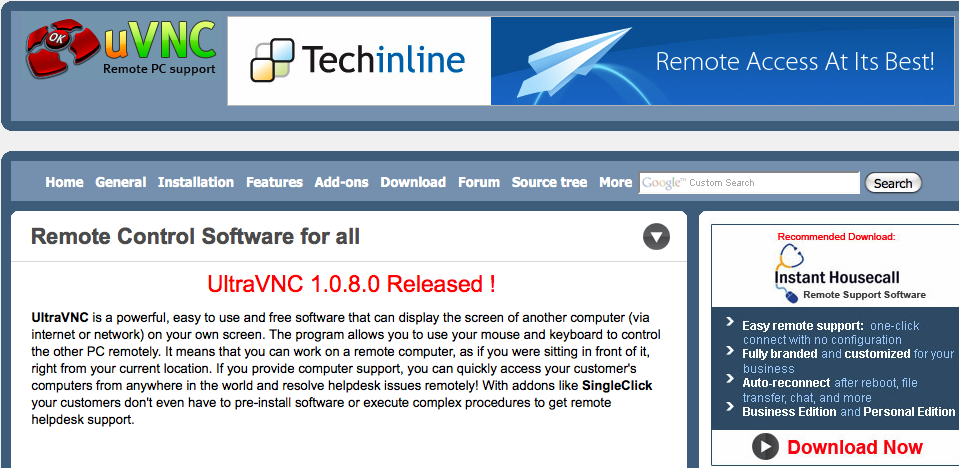 Wippien is a free program that is primarily for instant messaging, but can be used to control a remote computer, much like the process of requesting remote assistance in Windows Live Messenger. The connections made through Wippien are secure, P2P connections. The software assigns a unique IP address to represent the specific contact the user is communication with and encrypts all information sent through the connection. Wippien also works behind firewalls, eliminating any hassle that might come from such security precautions. Wippien runs on Windows (XP, Vista and 2000) and Linux.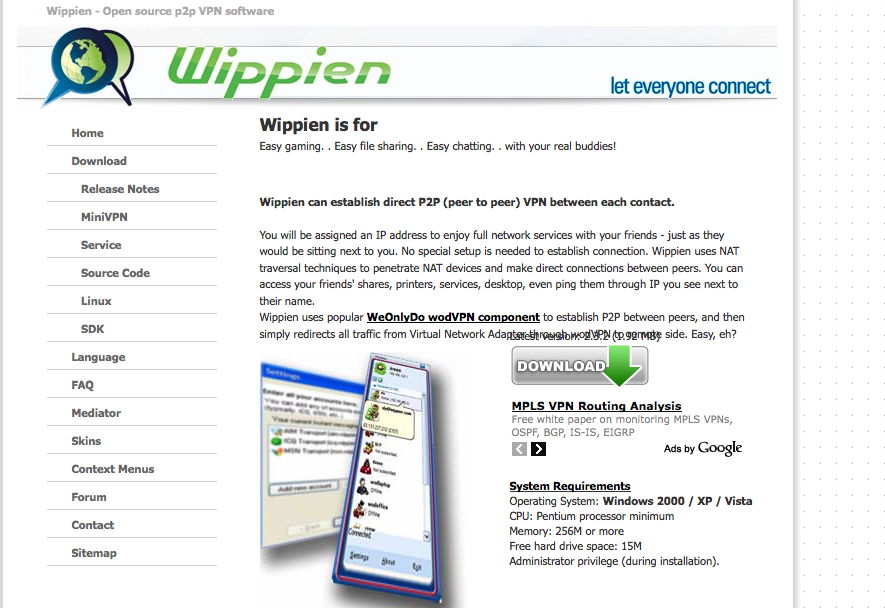 Zolved allows users to connect to or connect to and control the computer of another user. The software only runs on and controls computers running Windows, so this option isn't for Mac or Linux users. The interface is nice and simple and the download process seems to be efficient, as well. As with the other products on this list, Zolved works behind firewalls and offers a secure connection to users.