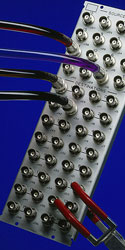 How do I clear my desk of computer wires?
Make sure your cables are long enough – Many messy wire situations are caused by using cables that are too short.
Route your cables using velcro straps – Bundling wires together and routing them out of sight can help you keep your desk clear. Black electricians tape is another option if your wire setup doesn't change too often.
Get rid of equipment you don't need – If you have a bunch of gadgets that aren't being used, remove them from your desk. For example, your scanner might be better of keeping in the closet if you only use it once or twice each month.
Use wireless – WiFi for networking and bluetooth for keyboards, mice, and audio can cut down on the amount of wires on your desk.
Use a KVM – If you have multiple computers, you may benefit from using a single keyboard and mouse and using a switch to change between computers.
Use a monitor with many ports – Using a monitor with built in speakers, USB ports, and multiple video in connections can reduce the amount of equipment and wires on your desk. Since monitors are usually large they can easily hide the required wires and generally take less room than adding separate speakers, USB hubs, etc.
How do you keep the wire clutter to a minimum on your desk?