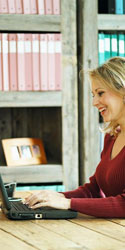 How should I organize my desk at work
Get a file cabinet. Most of the junk on a work desks is paper that should be filed. Take the time to setup a reasonable filing system and then commit to keeping your papers stored in the file cabinet.
Limit your personal clutter. A family picture or two is fine, but 20 framed photos, three baseballs, 2 snowglobes, and 4 unidentified objects is a bit excessive. Keep your extra stuff at home.
Don't use your desktop for storage. If you need additional storage space, get some boxes you can put on the shelf or a cabinet of drawers. If you use the top of your desk for storage it will quickly accumulate many more items.
Route your wires. Computer and phone cables can account for much of the clutter on a typical desk. Taking 30 minutes to route your wires can go a long ways toward keeping things neat.
Think about cleaning. If you can arrange your furniture so the janitor will have an easy time vacuuming, you'll probably have a cleaner office area.
Set aside time to organize. Good organization doesn't happen on accident. Set aside time to organize every few months and make basic maintenance organization part of your daily routine.
Keep cleaning supplies nearby. If you can keep a bottle of glass cleaner and paper towels in your office it will be a lot easier to keep things clean than if you have to go to a closet somewhere to get supplies. Make it easy to keep things clean.
Think "where will I find it". When organizing, don't ask yourself where to put something. Ask yourself where you will look for it. Organizing should be done so you can locate everything you need quickly. If you just focus on finding a place for things, you may put them in places where it will be difficult to locate them later.