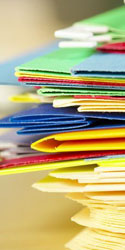 How do you use hanging folders?
I use hanging folders to hold regular manilla folders. So I may have a hanging folder for "Personal Taxes" and another for "Business Taxes". Then within each of those folders, I'll have one for each year "2004 Personal Taxes", "2005 Personal Taxes", etc. (I talked about this in a previous Tuesday's Tip.)
Many people organize their files alphabetically. This isn't a bad idea, but if you have a few files, it may be slower than some of the alternatives. For example: Every time you use a hanging folder put it in the front of the drawer. That way the most frequently used folders are always in the front and the less frequently used folders slowly make their way to the back of the drawer. If you always start looking for a particular folder at the front of the drawer, most of the time you'll only have to look a very short distance.
I use plastic Rubbermaid tubs with hanging file rails to archive my older files. I'll take out anything I'm unlikely to need and put it in the tub and then move it into storage. That way my working files aren't cluttered up with paper I want to retain, but will probably never need again.