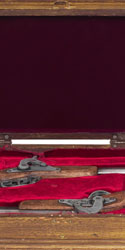 Can I keep a gun in a safety deposit box?
I talked with someone in the safety deposit department of a large national bank in Kansas City and they said it was not allowed. Even if it was, there is the issue of taking a gun into the bank in the first place. Many banks have security devices behind the scenes that are watching for these types of things. The individual I spoke with couldn't tell me about the bank's security system, but he made it clear that bringing a gun into a bank would not be a very wise thing to do–even if you were just going to put it in the safety deposit box.
I also talked to the VP at a small bank in Oklahoma. He said it wouldn't be a problem at his bank if they knew you well. At least one of his customers keeps antique guns there.
The policy may vary from bank to bank and from state to state. It is probably wise to ask before you try to put a gun in the box.
On Fridays we publish questions from our readers. If you have a question you'd like to see answer here, please send it to [email protected].