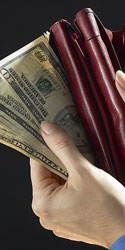 How do you get money back from someone who owes you?
Generally if you are asking this question, you've probably made a mistake somewhere. Here is a list of rules I follow for loaning money.
Never loan money to friends or family that you can't afford to lose. If you can't forgive them the debt without holding it against them, you are not the person who should be loaning them money.
Do everything in writing. Don't expect to remember the terms of the loans. Get it in writing and signed.
Make sure you have terms listed to handle the case where they don't pay. This could be listing an item as collateral, late payment fees, etc. You need to leave yourself an out if they don't pay. Be careful because every states have different laws about what you are allowed to do.
Keep in mind that if someone is coming to you for a loan instead of going to a bank, there might be a good reason the bank won't loan them money.
Ok so lets assume that you have already loaned someone money and are having trouble getting them to pay. The best thing you can do is to keep communication open with them. If they haven't spoken to you for 6 months about it, you have much less chance of seeing your money that if they are making some small payment every month. Give them some options such as:
Offer them a longer payment period.
Offer to accept a physical item in exchange for some or all of the debt. Their boat, motorcycle, computer, vacation house, etc. may be worth more to you than it is to them, so it can be a win win for both parties
Offer them other payment options. If you can accept a credit card payment, you may be able to move the loan off your shoulders to the bank.
As a last resort you could turn the loan over to a collection agency, get a lien against their house or car (they can't sell it without paying you off), or even get a court order to garnish their wages or seize property.