I've updated the design of Productivity501, please check it out and let me know what you think.  In particular, let me know if you see anything that looks wrong or needs fixed. The design is similar to the original so you may not notice too many changes.  The biggest differences are in the ways the site deals with images–it will now autosize images so we don't have to do quite as much work in an image editor.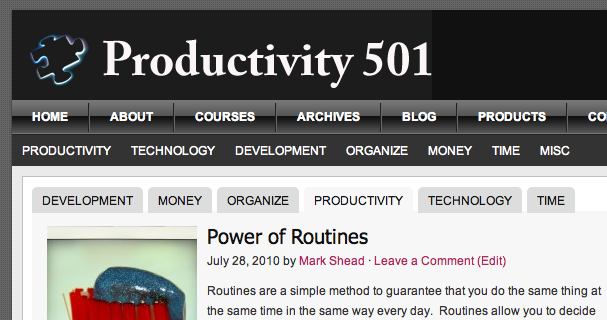 Let me know what you think!  Also if anyone has suggestions for improvement, please let me know. I can't change to match every suggestion I get, but I'd appreciate any feedback about any aspect of the site.  It helps me plan ahead for the next time we revamp the design.
For anyone interested, the theme being used is Magazine from StudioPress.  The previous theme was Revolution Pro Media which was a predecessor to the current theme.