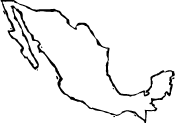 My wife and I lived in Mexico for awhile.  This post was a look at how people approach productivity differently in different countries.
I am currently living in Mexico for a year. It is amazing how much our productivity is based on being familiar with our culture.  It has taken a while to get into "the groove" of things here, but I'm finally getting to the point where I feel like I'm starting to be productive again.  Here are a few things that are different in Mexico:
Time – There is a different view of time here.  In the USA if a bus says it is leaving at 9pm, you plan to be there by 8:45pm. Here in Mexico if the bus leaves around 10:30pm or 11pm it is considered to be leaving pretty much on time. I was at a conference that was supposed to run from 2pm to 5pm–the main speaker didn't get up and start speaking until 5:30.
Doing things ahead of time – people tend to do things as needed instead of ahead of time.  For example, there is no advantage to buy 1 gallon of milk over buying 1/2 gallon.  The price is exactly double.  This isn't too much of a big deal because there are small grocery stores on every corner so it just takes a few minutes to get milk. It is just different because you spent a lot more time running to the store here.  Also, paying bills is different because it is common to wait until your phone or cable is cut off before paying the bill.  In this US, you wouldn't do this because there would be a reconnect fee. Here it is just expected.
Late Nights – It is amazing how late everyone stays up.  It is common for a meeting to start at 8pm and go until 11 or later. I'm not exactly sure how people get by with so little sleep.  I suppose taking a siesta in the afternoon helps, but it seems like people get a whole lot less sleep here.
Labor is Cheaper – This shows up in interesting ways.  Taxis are fairly inexpensive and the starting rate to go a few blocks is $0.50 to $0.75.  Driving across town costs $3 to $5. Trash is picked up every day.  In some places trash is picked up twice each day. A lot of things we expect to use technology for in the US are done manually here, like watering the grass, etc.
It is quite a transition being here, but it is interesting to see how many of the things we depend on for productivity are based on the culture in which we live.  I'm starting to find a better balance in being here and my productivity is going up, but it is a very interesting learning experience.
I need to go now.  It is time run across the street to get today's milk from the creamery.
(If you want to read more about adjusting to life in Mexico, checkout www.mexico501.com
Originally published on November 8, 2006.