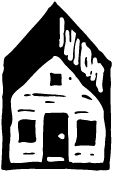 I am fascinated with the idea of very small, but well designed living spaces. My favorite part of IKEA stores is walking through the small living areas that they have set up and looking at how they used the space so efficiently. I ran across an interesting site where a builder is making very small houses ranging from 40 sq. ft. to 700 sq. ft.
While I enjoy large homes, I've found 30 to 40% of most places isn't really used. It would be interesting to live in a place that was designed just around the types of space I needed instead of just matching a standard floor plan. The usefulness of a house is much more related to how well it is designed than its actual floor area. My wife and I use to own a home with 1,700 sq. ft. of floor space. However it seemed at least 50% bigger than another house with 1,800 sq. ft. of floor space. The smaller home had the space distributed in a way that was more useful for our needs so it seemed much bigger.
I don't think I'd want to live in a 75 sq. ft. home, but it is interesting to see how they solved some of the space problems in creating very compact living areas. Check out Tumbleweed Houses for some pictures of very small houses. You may find some ideas for improving your current living areas and some ideas that might make you laugh (do you know what a chamber pot is?).