It isn't uncommon for small crises to turn into a huge time drain if you haven't planned ahead. I'm not saying that you should spend an inordinate amount of time trying to plan for every possible emergency, but there are some very basic level precautions that are worth the small amount of effort they require.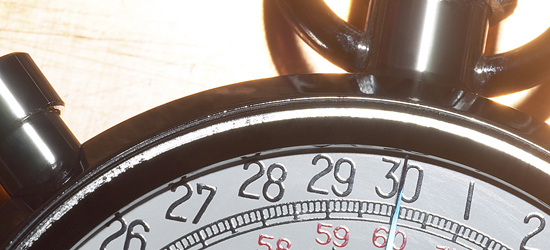 Here are a couple crises to consider:
Your wallet gets stolen while you are traveling to another city.
Your car gets a flat tire.
Your cellphone gets its memory erased.
These are all fairly minor issues if you are prepared. They can become catastrophic issues if you are not prepared.  For example, if your cellphone memory gets erased, as long as you have a backup of all the important names and numbers, it isn't that big of a deal.  However, if you have no type of backup, you could potentially lose contact information that would be very difficult, if not impossible to recreate again.
I recently had a flat tire on my car.  It shouldn't have been any big deal, and I just took it to a service station to have it fixed.  Unfortunately, my car has one fancy locking nut on each wheel that can't be taken off by a regular tire iron.  After a search of the entire vehicle, we gave up and the mechanic had to find a way to force the lug nut off. I lost an extra 30 to 45 minutes of time because I wasn't prepared.
Our lives are full of numbers.  Credit card numbers, insurance numbers, bank account numbers, etc. Most of the time, we can get these numbers off our credit card, bank statement, or insurance policy.  However,  the time that these numbers really become vital is when those policies, statements or cards are destroyed or stolen.
Before my wife and I headed down to Mexico, we made a list of all the important numbers in our life, printed it off, and put it in a safe deposit box where our family could get to it if it was ever necessary.  We didn't even save the file–just the printed copy.  The list contains all of our bank accounts, credit card numbers, retirement numbers, health insurance numbers, life insurance numbers, passport numbers, drivers license numbers, and online banking passwords.  It also contains the telephone numbers for all of the banks and companies that might need to be contacted.
If I were to die, it gives my wife a single place to go for all the necessary insurance and financial information she would need. The few hours of putting this together would save her a few days of digging through files.  It also gives us a simple way to recover information for much less drastic emergencies such as having our wallets stolen while traveling.
The point is, you can invest a few minutes today that can save you hours and hours down the road.
Originally published June 21, 2007.