There once was a woman who hated her husband. She decided to kill him. After contemplating a direct murder, she couldn't come up with any plan that seemed unlikely to result in her getting caught. Finally,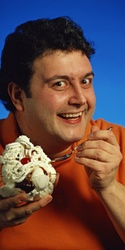 she settled on poisoning him with a bad diet. She figured no one would suspect her if he died from eating a typical, American unhealthy food.
To accomplish her evil intent, she started cooking for him. She made him all kinds of fried, fatty foods. She fed him donuts and always encouraged him to eat an extra large helping of dessert. The husband of course thought he was in heaven as his wife tried to slowly kill him. In the end, they worked things out and she stopped trying to kill him. (To the best of my knowledge, this is a true story, but I can't remember the source.)
What you eat is directly tied to the way you function. It determines how well you mind works. It determines how much energy your body has. It can even determine how much sleep you need.
Take a look at your diet and make sure you aren't eating consistently from the deadly menu the woman was trying to use to poison her husband.