I'm amazed at how much time people are willing to spend driving around a parking lot looking for a space to park. I'm not talking about places where it is snowing and there are only limited slots in covered parking. I'm talking about the people who will drive around the lot for 15 minutes trying to avoid a 2 minute walk from the empty spaces just beyond the spots everyone is fighting for.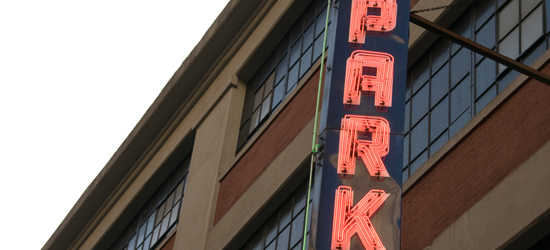 In this post, I want to talk about optimal parking strategies, because people seem to waste so much time on the activity. But first a story:
I knew someone who would occasionally go to the mall around Christmas. He would walk toward a car in the prime parking spot and invariably be followed by a crazy-eyed parking spot hunter. He'd go stand next to the car for a few moments. The hunter began to drool at the prospect of capturing such a marvelous prize. The cars would start backing up behind the first car–everyone envious of the spot they were about to get, then he would simply walk off to his car parked on the far side of the lot.
Ok, so on to parking strategies:
It isn't that far of a walk
First of all, in most situations, the time it takes to walk from the empty spots to the spots next to the store is minimal–only a few minutes. If you want a spot that is close to the store, try a reasonable strategy and then just take a spot. You don't "win" by driving around again and again looking for an even better spot.
Sometimes the most productive thing to do is to pick a spot a reasonable distance from the store and walk. It is good for your health, keeps your car away from where it is likely to get hit and scratched, and often saves time.
Shopping cart returns matter
If you get a close spot, but it requires that you return the cart clear across the lot, you haven't really gained anything. People don't think about this because they don't have a cart when coming to the store, only when leaving. A spot that doesn't seem as close, but is right next to a cart return, can save you quite a bit of time over a close spot where you have to actually go back into the store with the empty cart and then back to your car.
Start at the store and work out
If you are looking for a spot headed toward the store, it can be hard to see if an empty one is the best available or if there is another one just ahead.  I'm sure everyone has driven just a bit further to discover that the "empty" spot actually had a Geo Metro in it, and the one three spaces back (which was just taken by an SUV) was actually the closest available.
If you start your search at the store side and work out, you can just take the first available slot. And don't be tempted by a closer slot you see in another lane headed back to the store. If space is at a premium, it will be gone by the time you get there.
Think about the speed of leaving
Not every slot is equal when it comes to exiting the parking lot. Some will dump you out into a flow of pedestrian traffic and can waste considerable time.  This is one of the advantages of picking a side lane and taking the first space you find while moving away from the store. Also, watch out for things like pharmacy pick-up spots that are likely to have a high rate of vehicle changes and thus can make it difficult for you to get out of the parking lot if others are pulling in and out when you need to leave.
And there you have it. Some great strategies for getting in and out of parking lots. As I said, I feel a bit silly even writing about this, but little things matter, and from what I saw going on at the grocery store today, there are a lot of people spending a significant portion of their lives looking for a parking spot.