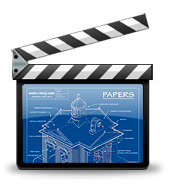 A helpful reader pointed me to Papers.  It is a well thought out program for managing academic papers on OS X.  I've looked it over briefly and it looks pretty impressive.  It integrates with  PubMed and other online repositories allowing you to search and download PDFs while autopopulating all the metadata fields.
Papers also allows you to take notes as you read articles and keep them with the PDF.  It seems to be setup for working with existing PDFs, so there doesn't seem to be an built in OCR capabilities.
If you are looking for a way to organize your research Papers is worth checking out.